Vancouver hosted two competing picnics Tuesday evening that were literally black and white.
And for the first time, the event featured a wedding. (Though with a gorgeous backdrop, catering from the city's finest chef, and fresh floral centrepieces, it's surprising something like that didn't happen sooner.)
Abbotsford couple Sam Merrell and Rachel Steinebach surprised the crowd by exchanging vows in a "pop-up" ceremony at Canada Place.
Merell and his groomsmen were outfitted in custom suits — all white, naturally — from Vancouver-based Indochino menswear, which sponsored the wedding.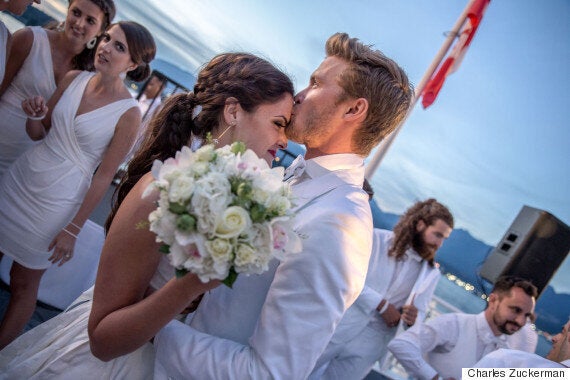 As per tradition, the location of the invite-only Dîner en Blanc was revealed at the last minute on Tuesday. Then decked out in white, participants descended on Canada Place, following specific instructions and precise seating arrangements.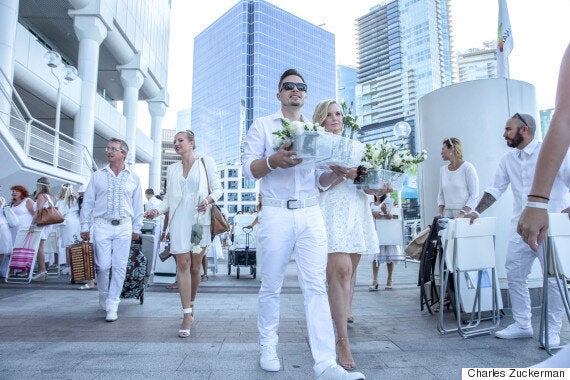 Dîner en Blanc began in 1988 when Francois Pasquier invited some friends to a Paris park for a picnic dinner. He told everyone to wear white so they could find each other. The peculiar event has since been transplanted to cities around the world.
Interest in the Vancouver edition has been explosive with attendance jumping from 1,200 people at Jack Poole Plaza in its first year to 4,500 on Tuesday.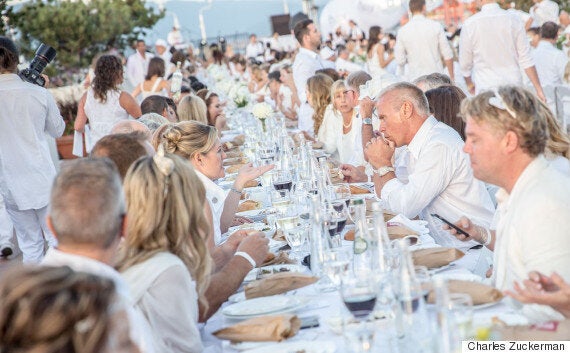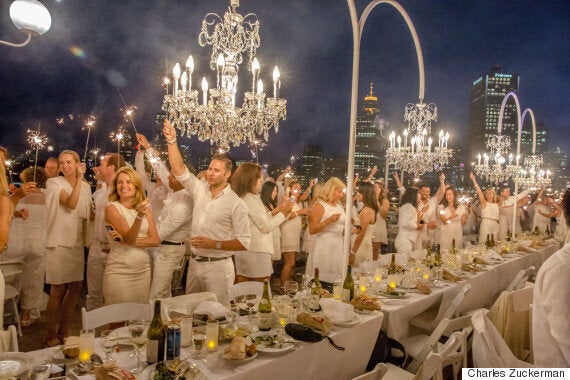 The alternative event in Crab Park was decidedly more casual, with no exclusive sign-up process. Participants were asked to bring a "big blankie" and wear all black.
"This is no chic-picnic. It's actually not fancy whatsoev. It's also free," boasted Ce Soir Noir's website, which encouraged food bank donations and a family-friendly vibe. In fact, kids and kids at heart enjoyed themselves chasing giant bubbles through the park.
Black or white, Vancouver was at least out having a great time!
Check out more photos of the chic Dîner en Blanc: