Guy Fieri's greasy and delicious road trip hit up one Canadian city this season.
"I have a fond appreciation for the Canadian culture and the Canadian food scene in general. We were up for the (Vancouver) Olympics and it was just fantastic! I couldn't believe the different foods, particularly the Asian cuisine," he said in an interview with The Sun.
In each half-hour episode, Fieri rolls up his sleeves and helps chefs cook and well, eat. And with all the restaurants featured, we're pretty sure Fieri added them to his 'Why I Love Canada' list.
LOOK: All four of Fieri's Toronto pit stops: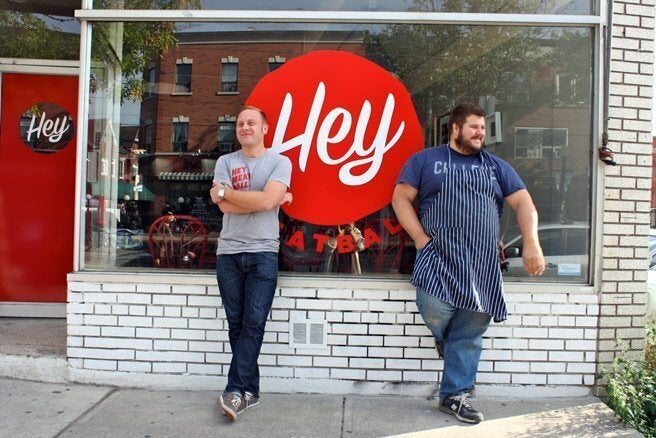 Diners, Drive-Ins and Dives In Toronto
SPECIALTIES Meatballs, pasta and vegan/vegetarian options
Hey Meatball is Toronto's one-stop shop for meatballs and pasta, all made with fresh ingredients within a 100-mile radius of the store. They also whip up natural sodas and soft-serve ice cream — so we're pretty sure Guy got a taste of both the sweet and savoury world.
TO AIR: Friday, March 15 at 10 p.m
SPECIALTIES: 24-hour breakfast, brunch and local beers.
On this stop, Guy took a stab at The Lakeview's 24-hour breakfast service and possibly ate stuffed French toast, a cornflake chicken club sandwich and drank an apple pie milkshake. Now we only hope he did it in one go.
TO AIR:Friday, March 22 at 10 p.m.
THE SPOT:The Ace in Roncesvalles Village
SPECIALTIES: Peanut butter ice box pies, Nutella sandwich, brunch menu
The Ace is home to a mac and cheese burger and a Christmas burger with a side of pork belly. For this restaurant, we hope Guy got to try out The Ace's Nutella-filled chocolate pierogies — because that's what we really want to eat.
TO AIR:Friday, March 29 at 10 p.m.
(In the picture, a tarte from brunch).
SPECIALTIES: Old-fashioned Jewish cooking and all-day breakfast
This Jewish deli in Toronto serves up smoked meats, knishes (stuffed puff pastries) and other deli classics that remind you of your mother's cooking. You might want to grab a few tissues, this episode centres around the passion to cook that's passed down through generations.
TO AIR:Friday, April 5 at 10 p.m.