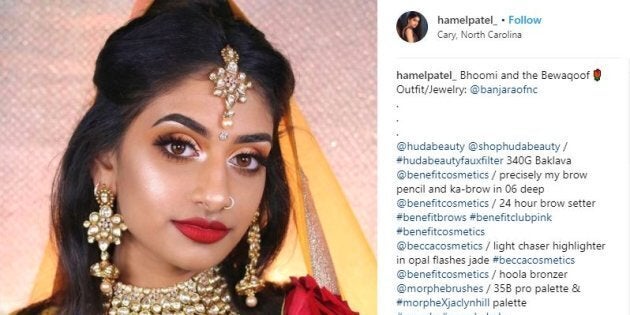 When you think of Disney princesses, you most likely picture images and representations that are Westernized — basically, white women with big breasts and tiny waists.
To counteract this narrow view of women, North Carolina-based model and makeup artist Hamel Patel decided to recreate the looks of Disney princesses using traditional Indian clothing and makeup.
Patel, 20, revealed her transformation series last November when she posted images of herself as Indian Disney princesses on Instagram. "Growing up I always wished there was a Disney Princess I could relate to, one that represented where I came from. So I came up with this idea many months ago," Patel explained on the social network.
In between pics of her chic fashion and beauty looks, Patel modelled outfits and makeup that were inspired by the eight original Disney princesses, but with "a little desi twist."
Up first, Patel channelled her inner Snow White with a teasing caption: "One bite, & all your dreams will come true." To create the look, Patel used Morphe Brushes's 35B Pro Palette, creating a cut crease with a black winged eye. Patel then finished off her look with Banjara Indian Boutique jewelry (of who Patel is a brand ambassador), dawning a stunning red and gold necklace with matching earrings to tie it all together.
Patel also amazed her Instagram followers by becoming Disney's Mulan, Cinderella, Aurora from "Sleeping Beauty," Belle from "Beauty And The Beast," and Princess Jasmine from "Aladdin." She even placed a fork in her hair to become Ariel from "The Little Mermaid."
Cinderella
Aurora
Ariel
People recreating Disney princesses is nothing new. In 2015, B.C. mom Camillia Courts helped her six-year-old daughter, Layla, become Elsa from "Frozen" after they returned home from a trip to Disneyland, according to The Loop.
"I thought 'We should really take a photo of this,'" Courts told the website about her daughter sporting an Elsa costume. "I posted it on Facebook and suddenly I got 500 likes and thought, 'Oh, people really like this!'"
After an overwhelming positive response from her friends on Facebook, Courts went on to transform her daughter into Rapunzel, Snow White and The Evil Queen, among others, reports The Loop.
In 2016, artist Anoosha Syed reimagined Disney princesses as millennials, sketching them as they would look like at the time, reports Bustle. Mulan, for example, is reimagined as wearing Converse, skinny jeans, and an army green jacket.
While Esmeralda is reimagined as a dancer.
Syed wrote on Instagram, "[Esmerelda] is the coryphée at a prestigious ballet company in Paris and has worked hard to get there despite the prejudice she faced along the way."
Patel, meanwhile, continues to wow her fans with more makeup looks on her Instagram page.