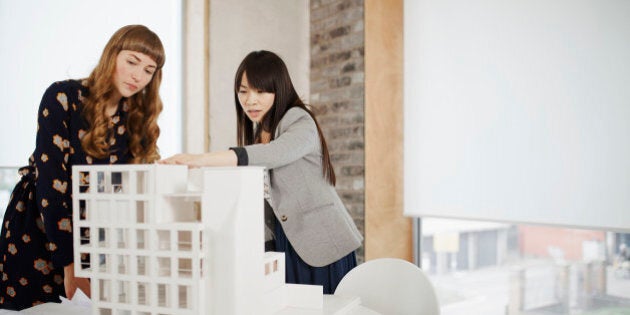 Last week, I was referred to a TED Talk delivered by Marwa Al-Sabouni, an architect from Homs, Syria, which reinforced the value of integrating diverse points of view in planning, architecture and design.
Reflecting on the destruction of Homs's built environment after six years of war, Ms. Al-Sabouni argued that a century of divisive urbanism encouraged classicism, bigotry, hatred and ultimately war.
Architecture plays a key role in social cohesion, and Ms. Al-Sabouni's argument for rebuilding her home city using the principles of inclusiveness exemplifies the unique problem-solving our industry can offer when more voices, female and otherwise, are added to the conversation.
I had written previously that female leadership ties ideas to outcomes to create a path to change that aligns with the language of community. Ms. Al-Sabouni's ideas for change make me proud to be a female architect and motivated to encourage more women to join the profession.
Our world is in dire need of community builders like Ms. Al-Sabouni. It's why I promote gender equality in architecture, and advocate for a shift in gender perceptions in the industry. We need focused attention on our homes, workplaces, schools, public spaces, neighbourhoods and communities that embrace the diversity of cultures, beliefs, preferences, education and economics of an interconnected world. This stimulates pride, well-being, purpose, tolerance and prosperity. We well know a focus on money does not bring prosperity, a focus on our core values, vision, passion and open-mindedness does.
The latter's master plan for renewal was led by late urban planner Andrea Gabor, and includes mandates that prevent current tenants and co-op housing owners from being displaced, preserving the sense of home and belonging.
I spent four years living in Shanghai as B+H's Managing Director. Sadly, there has not been much of this kind of community-building revitalization in the recent mass urbanization of Chinese cities. There, I saw endlessly repeated concrete, tall, city blocks with eight-lane roadways and tidy landscaping built in place of existing neighbourhoods that were leveled to the ground, but it appears things are changing for the better.
Recently we see market-driven demand for developments in Tier 2 cities called "urban living rooms" by Calxon Group, where new mixed-use communities are respectful of scale and density and promote live-learn-work-play communities where pedestrian and bicycle circulation are once again embraced.
While I'm not suggesting that this community-minded development is solely the domain of a woman's point of view, it does signal a paradigm shift where inclusiveness is becoming more of a top priority when we consider our built environments. It's a shift that will hopefully embrace architects like Marwa Al-Sabouni and support them as they live and work in their chosen profession in a diverse, inclusive, humane and prosperous community.
Follow HuffPost Canada Blogs on Facebook
Popular in the Community