"Futures uncertain and the end is always near." Jim Morrison
On a sunny day in mid-July, when the air is warm and the water is a deep topaz blue its pretty hard to not completely love the Village of Tobermory in Ontario. It's situated about four hours drive north of Toronto. Frankly it looks a little out of place -- it might blend in very nicely along the coast of New England or Nova Scotia. Shops and brightly painted wooden houses hug a narrow harbour that opens out into Georgian Bay. It's a little odd to spend hours driving through boreal forest, turn a corner and find yourself in what appears to be an east coast fishing village.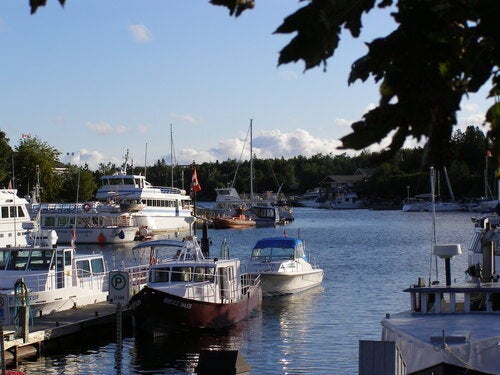 For some Tobermory is a brief stop prior to boarding the ferry to Manitoulin Island: a chance to tuck into a plate of the town's famed fish and chips or browse a rather extensive and well regarded candy store. Still others come to the area to explore Bruce Peninsula National Park. There are trails to fit the needs of every person, from the rugged outdoors person to the barely mobile couch potato. And of course there's always the water. Georgian Bay can go toe to toe with the Caribbean when it comes to colour and clarity. Of course the fact that the constant near freezing temperatures draws screams of pain from swimmers is a little bit of a drawback, but life's full of compromise.
But Tobermory holds a special attraction for people like me. It is arguably one of the best cold water diving destinations in the world. It's appeal can be summed up rather neatly. The water is crystal clear, sometimes as much as eighty feet of visibility underwater, and Georgian Bay holds a treasure trove of wrecks -- often in pristine condition. That water that turns swimmers blue with cold preserves wood like creosote. That means the bottom is peppered with wrecks from as far back as the mid 1800s.
The jewel in the Tobermory diving crown is the wreck of the Arabia. A wooden barque, she sank in 1884 and sits in about one hundred feet of water. he Arabia has a number of exceptional features -- a nearly intact bow sprit, still catted anchors, a massive winch and railings that look as if they were only recently submerged. The Arabia also has a reputation as a dangerous dive. During the past 30 years, 13 people have died diving the wreck. Those numbers take on new meaning when you realize they're in the same league as the number of fatalities that have occurred on much more dangerous wrecks like the Andrea Doria (160 plus feet deep and well out in the Atlantic Ocean.)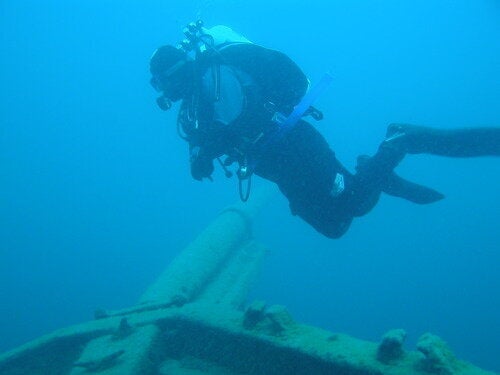 So on this day as our boat makes its way out to the wreck of the Arabia we're all very much keeping things tight: gear is checked and double checked. Safety routines are carefully observed between dive buddies. The pre-dive briefing is thorough by Tobermory standards. We go over side and my buddy and I drop down the line to the back of the wreck. We have just enough bottom time to do a complete but leisurely tour of the Arabia. The visibility is superb, the water a balmy 10 degrees. All in all a great dive. It goes off without a hitch.
Our next destination is the Niagara II. It's not a wreck. It's an artificial reef, cleaned up and sunk as a diver's playground in 1998. It ranges in depth between about fifty and ninety feet. It's a bit of a T-shirt for divers in Tobermory -- been there, done that, got the T-shirt. Oddly it's on this relatively easy dive that the worm suddenly turns.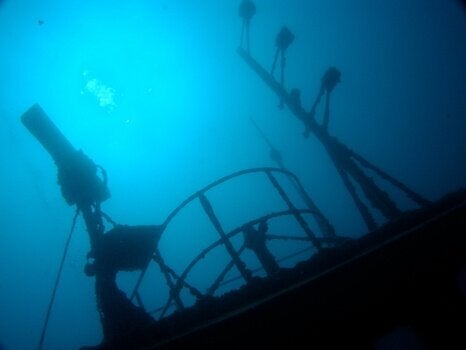 My buddy, Richard, and I had reached the wheel house, made a quick tour of the crew quarters, then finned to the mid-section and entered into the forward hold. I was a little ahead of him. As I started to emerge from the hold near the bow I felt a frantic tug on my fin. I turned and Richard was signalling that he was out of air.
But not just out of air, Richard was engulfed in a massive flow of bubbles pouring from the valve on his tank. It looked as if he had only seconds before his tank was empty. I stayed calm, followed my training routine, quickly unwound my primary regulator and presented it to Richard. He grabbed at it and stuffed it into his mouth. I switched to my backup. But out problems weren't quite over.
I noticed we were ascending quickly, too quickly. I started to dump air from my wing but Richard was focused on keeping my regulator in his mouth and trying to deploy his pony bottle. The result, we shot the surface way too quickly. Not a good thing in diving. In fact something that can kill you. We popped to the surface and I swam over and shut down Richard's value. I told him we needed to go back down again and surface more slowly with a stop or two along the way. It was either that or risk the bends. Richard agreed and we sank back down, found the ascent line and at fifty feet held steady for several minutes. Richard was still using my air. His spare tank had also malfunctioned. I wasn't really worried about running out of air, we had tons to spare -- I was diving twin tanks and frankly we could have swum across the lake and still had air to spare. We slowly worked our way up to 15 feet and held for another five minutes just to be sure. Crisis averted.
It was only once we were both safely back on deck that it struck me that we had been extremely lucky. There were a dozen things that could have gone wrong with that emergency that could have killed one or both of us. If Richard had panicked, if I'd panicked, if I hadn't responded in the right way, if we'd become entangled in our hoses, both of us might have drowned. The good news was we both kept our heads, responded with the right safety routine and came out OK.
But as I thought about the whole incident another thought stuck me: how fast life can completely change when you least expect it. A cliche I know, but it was ironic that during an earlier dive that day on a wreck that was potentially life threatening -- where I would expect problems -- everything had gone off like the proverbial walk in the park. Two hours later during the dive on the Niagara II -- which some people have done hundreds of times without incident -- suddenly life became potentially very tenuous: nothing to signal a dramatic turn of events was about to occur, no Hollywood like preview, it just happened and in a split second my life became totally different.
I'm guessing that people who have car accidents must have the same experience. Driving along to the local ice cream parlour with not a care in the world, thinking that life is never going to change and in a heart beat everything changes. All hell breaks loose and life may never be the same again. It's a randomness that's both exciting and a little alarming. But it's most definitely one of the fundamental guarantees in life -- it never stays the same, its always changing. We just never know whether the change is going to be good or bad.
Meanwhile back in Tobermory, some gear head with every conceivable gadget in his "save a dive kit" (god bless him) had discovered that the problem with Richard's gear was a octopus that froze open. He swaped out the old one for a new one he just happens to have and we head off for our next dive with thoughts of Jim Morrison swirling through my head: "Let it roll baby roll..."