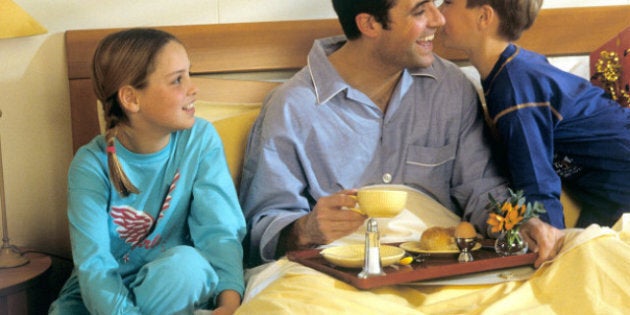 For divorcing parents, one of the biggest worries is that the shrinking budget will mean less money for their kid's activities and lessons. After separation, finding the resources to pay for two homes puts a strain on family finances. Often, one or both parents may draw a line in the sand, refusing to consider changes. The discussions become emotional before anyone does their homework about the real benefit of activities and lessons to their kids.
There is lots of research about raising healthy and happy kids. Here are some interesting findings:
A child's brain is constantly maturing during play. Children learn to solve problems, socialize, be self-reliant as well as develop imagination and creativity. Play can also be a source of physical development. Playing make-believe strengthens language skills and aids in proper social development. It's been said that the work of a child is play or to be more exact, learning through play.
Recent studies show that children gain lifetime benefits from their exposure to what is called "cultural learning." Cultural learning means the experiencing the arts and local heritage and culture, including libraries, museums and historical sites. Whether kids are creating, attending or participating, they benefit hugely from the opportunity.
In addition to the physical benefits of participation in sports, research shows that sport and physical activity can also have positive benefits on education. Through participation in sport and physical education, young people learn about the importance of key values such as:
• Respect for themselves and others, and
Best of all, participation in sports teaches kids how to deal with competition and how to cope with both winning and losing.
Sport-based programs have been shown to improve the learning performance of kids, encouraging school attendance and a desire to succeed academically.
Activities offered by clubs help kids build on what they are learning in school. On top of that, clubs can give them a chance to become leaders -- a valuable experience they may not have in school. For some, being a helper in a service club, a soloist in a music club, or an artist making scenery in a drama club provides a safe place to experiment.
Being part of a club is a supervised constructive activity and limits the time that is available for less constructive activity, such as television watching, or computer surfing. Relationships are built with adult leaders and other kids. The adult leaders can serve as role models and provide support and guidance.
Knowing that your adolescent is "hanging out" unsupervised after school can be a source worry. Spending time in supervised constructive activities provides opportunities to gain social skills from interactions with adults and other kids.
5. Hanging out with the kids
It may come as a surprise to learn that studies show the time parents spend with their kids has risen dramatically since the mid-1990s. This is true across the board for men and women alike, despite education levels.
"It's taking them to school, helping with homework, bathing them, playing catch with them in the back yard," said Erik Hurst, an economist at the University of Chicago Booth School of Business. "Those are the activities that have increased over the last 15 to 20 years."
When kids are asked for their input, they report that they want parents who are less tired and less stressed.
Parents have more time to spend with their kids. Divorce means doing more with less. Kids want their parents less stressed and tired.
Here are a few suggestions that hit all the boxes:
o Instead of chauffeuring your kids around, find at least one fun activity close to home that your kids can do once a week. That way, they can get themselves there and back.
o Go to Google. Type in "Free things for kids to do in..." your town or city. The opportunities are endless.
o Try and find the time to volunteer as a parent leader or coach at a club, team or organization that is of interest to your child.
o Get over the mess and make your home the fun destination for your kid's friends. No driving or funds required.
o Encourage your kids to play sports at school, through the local community centre or for older kids- help them arrange "pick-up" games locally.
Remember, for kids, your less can be their more!
Eva Sachs and Marion Korn are the co-founders of Mutual Solutions, a service that provides separating couples with trusted, understandable, actionable and practical advice. For more information please visit www.mutualsolutions.ca.