Actress and do-it-yourself skincare sorceress, Anita Majumdar, shares her recipe for a classic Indian haldi (tumeric) mask.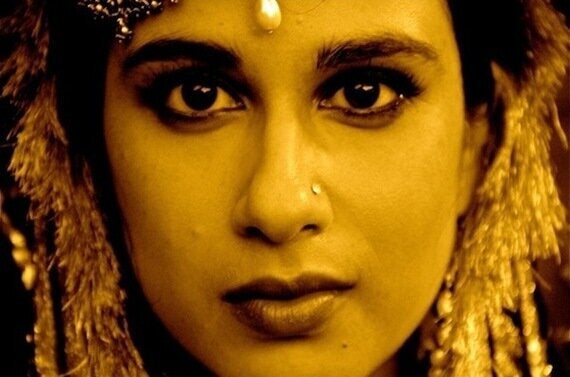 Photograph by Ronit Roy/ From the film Midnight's Children
A belated Happy Diwali, Thanksgiving and Eid Mubarak to you all! It's that colourful time of year that comes just before the gloom and doom of winter.
I'm a die hard astrology follower so this time of year also marks Scorpio season, which is that time of year when the days get shorter and darker and we submerge into the underworld as the cold weather descends upon us. There's just something in the cosmos at this time of year that really bums me out.
And along with Scorpio season, the weather brings on excess dead skin cells. I have tragically dry skin in cold weather, so dry skin cells flake off and clog my pores and I break out more than usual. What can I say, my skin thrives in desi climates! And more breakouts mean an even more bummed out Anita.
Indian brides apply turmeric paste to make their skin glow as well as deter any blemishes for their special day. Turmeric has anti-bacterial qualities that are great at combatting acne, hyperpigmentation, eczema and dark marks. There's a reason why we've been told to drink turmeric in hot tea when we feel a cold coming on. It's a powerful anti-oxidant. It gives the face and skin an overall brightness and glow, which we miss in the winter months because of the absence of sunshine and vitamin D.
Plus this mask's bright yellow colour makes your face literally look like sunshine when you have it on!
Do this mask twice a week for glowing skin through the winter months! Hope you enjoy it as much as I do.
Try Anita's other marvellous DIY beauty fixes:
Anita Majumdar is an award-winning actress, playwright and choreographer and best known for her roles in Midnight's Children, Murder Unveiled and her self-written solo show, Fish Eyes. As this year's Governor General Protegé Prize recipient in Playwriting, she premieres her upcoming Bollywood musical, Same Same But Different, in Toronto and Calgary in Spring 2014. Anita is also a judge on Bollywood Star, a new docu-series for Omni/CityTV which follows the search for Canada's next big Bollywood actor.
Popular in the Community