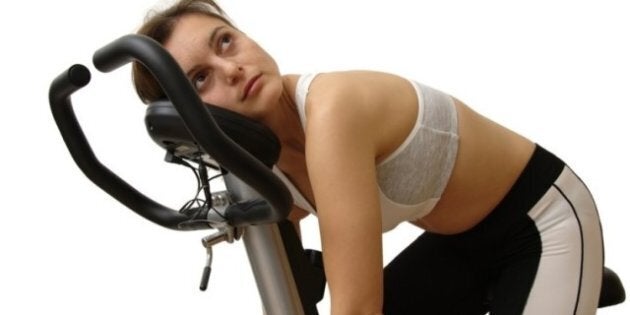 We've all done it. The calender starts creeping towards January 1st, and we make a bold pronouncement: No more smoking in 2012. Or no more sugar. We'll get to the gym five times a week. Or cut up those credit cards.
In a recent Kellogg's Special K "If Scales Could Talk" survey, of over 1000 Canadians, 68 per cent said they would be making a resolution this year. However, of those who made a resolution last year, 55 per cent said they didn't achieve it.
So are New Year's resolutions really an effective way to make major changes in your life?
"New Year's resolutions only work in very few cases and typically with those who have a will of steel," she says.
Moffit says the problem is people usually resolve to make huge lifestyle changes, and this isn't going to magically happen after a week.
"Psychologically, when we're faced with too many tasks it can be overwhelming," says Moffit. "For example, you're working out seven days in a row and then on the eighth day, you're just so exhausted, so you stop and never go back."
Moffit suggests to her clients they put a goal list on their desk or mirror for a regular reminder. And don't just focus on the things you're giving up.
"Think of it in the positive," she says. "Think: I'm going to eat more fruits and vegetables. Focus on the things you can do, and not the things you can't."
One of the most common resolutions is giving up smoking, and Moffit says it's the toughest. Part of the problem is that many smokers associate their cigarette breaks with relaxation.
"This is the only time in the day that they're breathing deeply and getting away from other people," says Moffit. "So you have to think about how you are going to get these little blocks in the day where you can relax, whether it's putting on a beautiful piece of music and relaxing at your desk, going for a walk somewhere or eating your lunch on the park bench outside."
Laura Jackson, co-founder of Fit Chicks Boot Camp, agrees that changing diet and exercise habits is about much more than simply making a resolution.
"It's not that I'm against New Year's resolutions, but I really try to think of it instead as focusing on setting goals," she says.
Jackson says she subscribes to the "S.M.A.R.T." principle: setting specific, measurable, attainable, realistic and timely goals. "That's the biggest faux pas people make," she says, "They say, 'This year I'm going to lose weight,' but it's like, how much weight do you want to lose? By when? And what is your action plan to get there?"
Fit Chicks offers a 40-page e-book for women taking their boot camps that includes a goal-setting blueprint. Another important element, says Jackson, is to set your environment up for success -- clean the junk food out your cupboards and purchase some good workout clothes. And don't forget the people in your environment.
"Losing weight and getting healthy isn't just a numbers game. There's an emotional factor and social factor that goes into it," says Jackson. "Are you hanging around with people who are sabotaging you or are energy suckers? New Year's is a good time to look at your life and ask, who is adding to my life and who is taking away? That can be a huge obstacle in getting to your goals."
WATCH: A bite-sized guide to keeping resolutions:
Popular in the Community