OTTAWA — Immigration Minister Chris Alexander suggested Wednesday that he does not want Muslim women to wear traditional headscarves during citizenship ceremonies.
"Niqab, hejab, burqa, wedding veil – face coverings have no place in cit[izenship] oath-taking!" the minister tweeted.
While the burka and the niqab cover a woman's face and are not commonly worn in Canada, the hijab is a headscarf that doesn't cover the face and is worn by many Muslim women.
Last week, while campaigning in Quebec, Prime Minister Stephen Harper said his government would appeal a recent court ruling that struck down a ban on niqabs during citizenship swearing-in ceremonies. The government argued that women should show their faces during the ceremony, but the legislation never included hijabs.
Alia Hogben, the executive director of the Canadian Council of Muslim Women, said it is worrying that the government might oppose the wearing of the hijab. She said it shows prejudice against Muslims and immigrants.
"I don't know what to say other than it's depressing as hell."
Alexander's office refused to clarify what the minister meant. Did he misspeak? Did he somehow think the hijab covers too much of a woman's face?
His spokesman, Kevin Menard, said the government is "opposed to anything that veils someone's face."
"It is offensive that someone would hide their identity at the very moment where they are committing to join the Canadian family," Menard wrote after a third email from HuffPost Canada seeking clarification.
Thursday, when questioned by reporters, Alexander would only say people could not wear anything, "not a hockey mask, not a wedding veil, nor any other veil" that hides their face.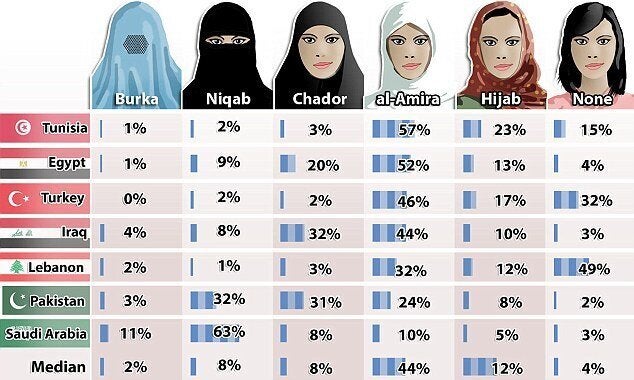 Hijab, Burka And Niqab Use Around The World
The National Council of Canadian Muslims' Ihsaan Gardee said it was possible the minister had made a mistake. But given the similarity between the minister's tweet and a recent Conservative Party's fundraising note that used the terms niqab and hijab interchangeably, he said that's "hard to believe."
Alexander served as Canada's ambassador to Afghanistan from 2003 to 2005, which makes it doubtful he did not know what he was saying, Gardee said.
"It stretches the imagination that he would not know the difference between hijab, niqab, and burka."
The fundraising note said the Conservative government "strongly opposes the wearing of a niqab – or any face covering – that would stand in the way of reciting the citizenship oath proudly, loudly and for everyone to see and hear."
"We believe that when someone becomes a Canadian citizen, they should embrace our culture and everything that makes us proud to be Canadian… It's why we filed a notice to appeal this week's court decision allowing people to wear the hijab while taking the oath."
The Liberals took aim at the Tories over the fundraising note during Question Period on Wednesday. In the House of Commons, Alexander said he knows from his experience living in a majority Muslim country that the hijab "has been used to cover the face of women — just as the niqab has been used, just as the burka has been used."
Sheema Khan, a Globe and Mail columnist and the author of "Hockey and Hijab: Reflections of a Canadian Muslim Woman," said she expected Alexander would not back down even if he had misspoken, because the Conservative government "rarely admits an error."
Khan, who wears a hijab, said she finds it offensive that the government is telling women who wear the niqab that they cannot dress in a certain way to attend a ceremony.
"I know Canadians don't like niqabs," she said. "[But] it's just preying on peoples' fears and prejudices.
"As Muslims, we feel the chill from this government."
In an election year, she said, she wasn't surprised to see the government alienate some communities to score political points.
"I hope, as Canadians, we reject it … but nothing would surprise me," she said.
Khan said people have told her they find her hijab oppressive.
"I do not believe I am oppressed. I find that quite patronizing, but you are entitled to your patronizing opinion."
Katherine Bullock, a lecturer at the University of Toronto and the author of "Rethinking Muslim Women and the Veil," said she believes the government is pandering for votes to many Canadians who are unhappy that Canada has become a multicultural society.
"They want to turn the clock back to a time when Canada was mostly white and mostly Christian," she said.
Many women who wear the hijab do so because it makes them feel closer to God, she said. Yes, some women are forced to wear it by their families, she added, but others want to wear it despite objections from more moderate family members.
"Every morning you get up, you look in the mirror and you say, 'I know everyone thinks I am a terrorist or oppressed, but I am going to wear this thing anyway,'" said Bullock, who wears the hijab.
"The government shouldn't be issuing these type of statements," she added. Muslim women already feel extremely vulnerable, she said.
"There is a lot of discrimination. It's hard to get a job in a hijab; it's impossible to get a job in a niqab… We would hope that the government would be coming out with statements that increase tolerance, that would increase acceptance of diversity and plurality in Canada. That is what Canada is supposed to stand for, and that's why many Muslims have chosen Canada as their place of immigration."
Popular in the Community