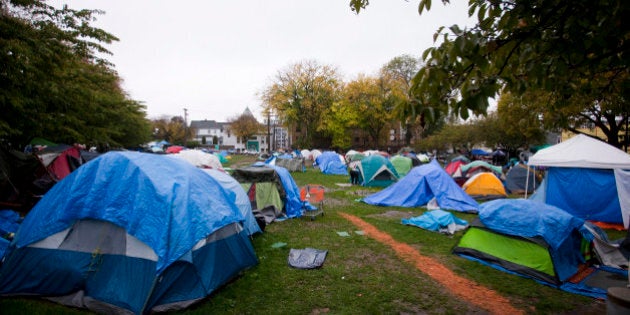 I live in a beautiful relatively new glass tower adjacent to King George Skytrain. It's a Concord Pacific development. My building has a concierge, games room, movie theatre, bowling alley, fully-equipped gym, steam room, among other amenities. Holland Park, SFU Surrey, and Central City Mall are all across the street. I have a secure underground parking spot in the heart of the new Surrey City Centre. I basically have been living in my own protected bubble for the last couple of years.
I decided to step out of my comfort zone recently to discover the neighbourhood and get into shape. I started walking down King George Boulevard and explored the new City Centre Library, City Hall, North Surrey Recreation Centre, and Surrey Civic Plaza. Everything was impressive.
Then I ended up on 135A street or the Whalley Strip. My God! I basically walked into Surrey's own mini-Downtown Eastside! There were at-least 100 tents and each tent had 3-4 homeless people inside. A lot of the people were apparently driven out of Vancouver and other parts of the Lower Mainland and ended up in Surrey. I guess Surrey is a convenient destination as it has a tent city community and is accessible via Skytrain.
Unfortunately, many of the homeless people were noticeably sick with either drug and alcohol addiction, malnourishment, or mentally ill. There was a lack of hygiene and stench of urine. I am sure this is a breeding ground for disease and infection.
I was surprised to see so many young people. I found this very sad as it's a reflection of the new reality for some of our next generation with an out of control inflated housing market and combined opioid drug crisis and I guess perhaps a lack of good paying jobs for youth.
My friend stated that most politicians probably don't care if homeless drug addicts die of an overdose. Apparently, they don't have value as human beings in the eyes of the decision makers. If they did there would be long-term solutions proposed and acted on to help the poor and homeless.
The local authorities are doing something, however. I discovered that the Surrey RCMP clear out the tents and homeless people almost every day. They force them to move but they have nowhere to go! This is a really a poor and pathetic attempt to clean up this tent city in the heart of Whalley.
The local residents and businesses want the Whalley Strip cleaned up. It's a black mark on Surrey and moreso on the British Columbia Government, as housing and social services is largely a provincial responsibility.
I am curious to know Premier Christy Clark's solution to her government's neglect of the most marginalized and vulnerable in our city?
As a social worker, I felt deeply moved about what I saw. I don't believe in being critical of an issue without proposing a solution so I will present one idea.
First, some people say that even if the poor and homeless on the strip were offered housing they would end up back on the strip because of the social support, relationships, networks, daily routine, and lifestyle they have made there.
For example, they become street entrenched and there are benefits to this such as access to free food and easy availability of drugs. I feel there is probably some truth to this. So, what is the solution?
I would recommend that the various levels of government consider developing "transitional housing" in Surrey where people can benefit from a similar social support network they receive on the strip while learning to live more independently with a healthier lifestyle in a supported housing model.
The goal eventually would be for people to move out and settle into good quality housing with supports in neighbourhoods throughout the Lower Mainland when they are back on their feet and can more successfully integrate back into society.
I feel its next to impossible to effectively treat the mentally ill or provide drug and alcohol daytox or detox or eventually help people find jobs if they are homeless and living in tents.
The British Columbia Government needs to look at transitional housing models around the world and determine what would be a good fit for Surrey and the Lower Mainland.
Unfortunately, I don't have a lot of hope in the B.C, Government developing any new housing for the poor and homeless in Surrey. Maybe an incoming new NDP government will have a change of heart. We will see!
Alex Sangha is an award winning social worker who lives in Surrey. For more information on Alex check out http://alexsangha.com
Follow HuffPost Canada Blogs on Facebook
Popular in the Community