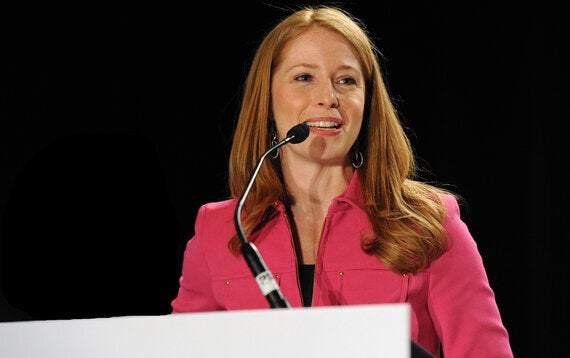 Special submission by Carolyn Lawrence, President & CEO of G(irls)20 Key Partner, Women of Influence.
Do you ever have the feeling -- in the core of your heart -- that you have something more to give the world, your community, even a conversation, but you're holding back? It's that uncomfortable and sluggish feeling, like you have a big wide open field of green trees and blue sky in front of you but you are choosing to breathe through a straw and shielding your eyes from the sun? It doesn't feel good when you do that does it?
Now think about the times when you put your all into something; dancing your heart out with your girlfriends, delivering your first-born child, what did that feel like? Amazing? Liberating? Like you're flying through the sky with the wind in your hair?
One more question: What have been the results of putting your all into something? I would take a bet to say, nothing short of evolutionary. Have you ever tried?
So why do we hold back? There are a billion excuses; someone told us we could never do that, our friends or family don't expect us to do that, fear that we wouldn't actually be good at it anyway, we can't afford it, we don't have the talent or training, etc. etc.
This is not a blog on why we hold back.
This is a blog about what we can do to let go of our fears, and go after our dreams. Because I know what happens when you do; you change the world.
The first step is knowing what inspires you, and surrounding yourself with those opportunities. For me, it is female CEOs. They are inspiring to me. The first time I saw one I was in my 4th year of Bachelor of Arts, and I attended an event in Toronto with my mother. The speaker blew my mind. Not just because she was a female CEO, but because she was a female CEO, AND she was authentic, AND passionate (who knew those existed?!), AND a mother and grandmother (for real!). So firstly, this blew my mind because of the combination of all those factors, but secondly (and more profoundly) because that was the first time that I had seen anyone like her. This is an option?? You mean to tell me, I can be all those things, and I didn't know?! Why aren't there more people like this?
Right then and there, I wanted that level of success for myself (woman, CEO, passionate, authentic, mother, grandmother), and I wanted it for every other woman out there that was ambitious, but didn't yet know that the options they want for themselves are possible.
See what happened there? I got inspired and found my first real role model.
What happened next? It took me a few years (6) but I joined the company that hosted that event, and took over as president two years later and made it my job, literally, to provide more platforms for role models to inspire more women.
What would happen if you took the time to find role models that you didn't even know existed, and then actually, got inspired?
I believe that you would be more successful than you could have ever dreamed. I believe you could change the world, because that's what women do.
Carolyn Lawrence is President and CEO of Women of Influence Inc., North America's leading organization dedicated to the advancement of women in business. Celebrating its 20th year in 2014, Women of Influence offers Gender Intelligence consulting to corporations, leadership coaching to aspiring executives, over 40 events every year, and inspiring content -- both online and through a quarterly magazine.