OTTAWA — NDP Leader Thomas Mulcair will allow his MPs to vote their conscience on the coming doctor-assisted suicide bill, but Prime Minister Justin Trudeau will not.
During the election campaign, Trudeau promised that his MPs would have a free vote on everything except matters related to the Liberal platform, traditional confidence measures such as the budget, and anything to do with "our shared values and the protections guaranteed by the Charter of Rights and Freedoms."
Trudeau asked all his potential candidates how they felt about the abortion issue before they were approved by the party to run, but he never asked them about physician-assisted death. Now, the government says a vote on its legislation is a charter issue and, as such, all Grit MPs must vote in favour of the bill.
"This vote will be essentially a vote that directly pertains to charter rights and therefore falls four-square within our policy," Sean Casey, the parliamentary secretary to the justice minister, told The Huffington Post Canada on SiriusXM's "Everything Is Political" show.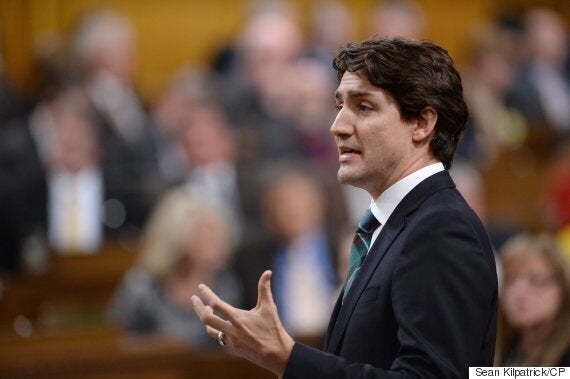 Prime Minister Justin Trudeau responds to a question in the House of Commons on Parliament Hill. (Photo: Sean Kilpatrick/CP)
The other parties see it differently.
NDP MP Murray Rankin, the vice-chair of the joint Parliamentary committee tasked with recommending how the federal government should respond to the top court's ruling, said he believes the legislation will address issues that are much broader than what the court covered in Carter vs. Canada.
Last year, the Supreme Court struck down a prohibition on physician-assisted dying, ruling that it violated the right to life, liberty and security of the person as guaranteed under the charter. It gave the federal government until June 6 to come up with a new law recognizing the right of clearly consenting adults enduring intolerable physical or mental suffering to seek medical help in ending their lives.
While the 1988 Morgentaler case on abortion was seen as a "fundamental human right of women," Rankin said, he feels the upcoming legislation is an "end-of-life decision that is wrapped up with a number of other issues."
There are differences in how the Supreme Court's decision can be implemented, Rankin said.
"Are people with mental illness … covered? People under a certain age, are they ever going to have the access to this conditional right? People should be able to vote their conscience and see if we got the balance right when the bill comes forward," he said.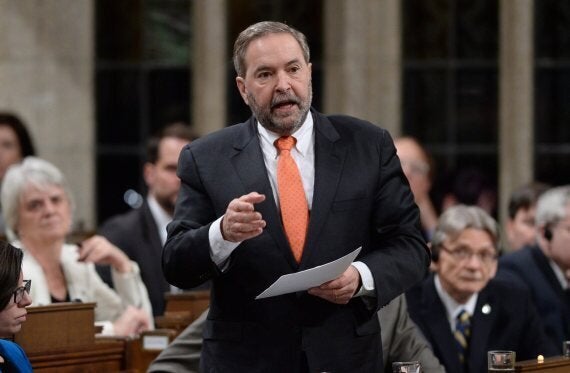 Mulcair asks question during question period in the House of Commons, on Feb. 16, 2016. (Photo: Sean Kilpatrick/CP)
Mulcair told reporters that he thinks people should be allowed to vote freely on a subject "this delicate."
"I have the intention of allowing our caucus to vote their conscience on this file."
The NDP leader pointed to Quebec, where the provincial government allowed a free vote and members of all parties broke rank but the legislation sailed through.
It is a "theoretical" question to suggest that legislation developed to address the Supreme Court ruling might not pass without a whip vote, he said.
"This is quite contrary to what the Liberals campaigned on about having more free votes and making sure that their MPs can vote their will."
The Conservative party, as with other conscience matters, will hold a free vote. Conservative MP James Bezan said he believes that MPs should be able to represent their constituents' voices or their own conscience.
"That's why you need to have free votes," he told HuffPost. "This is quite contrary to what the Liberals campaigned on about having more free votes and making sure that their MPs can vote their will. All we see so far from the Liberals is that they are gagging them and they are controlling them."
'I want to see the legislation': Liberal MP
Long-time Liberal MP Wayne Easter suggested Wednesday that he doesn't consider the direction from the party to be final.
The Liberal caucus will discuss it, hear from colleagues on the Special Joint Committee on Physician-Assisted Dying, and consult constituents before making a decision, he said.
"I'm not making any comments on anything that's going to be whipped at this point in time," Easter said. "I want to see the report. I want to see the legislation and then we'll make that kind of decision."
The P.E.I. MP is among a handful of anti-abortion Liberals who were grandfathered when Trudeau demanded that all new candidates support a pro-choice policy in the House of Commons.
"I don't really have a comment until I see the report, because maybe it won't matter to me, I might be quite happy with it."
Yukon Liberal Larry Bagnell, one of 50 Grit MPs who voted against a Bloc Québécois bill in 2010 that sought to legalize euthanasia, told HuffPost he wasn't yet sure how he felt about the whip vote.
"I don't really have a comment until I see the report, because maybe it won't matter to me, I might be quite happy with it," Bagnell told HuffPost.
Several current cabinet ministers — Public Safety Minister Ralph Goodale, Innovation Minister Navdeep Bains, Indigenous Affairs Minister Carolyn Bennett, Treasury Board President Scott Brison, Science Minister Kirsty Duncan, Public Services and Procurement Minister Judy Foote, Agriculture Minister Lawrence MacAulay, and current Government House Leader Dominic LeBlanc, the man who announced the whip vote — all voted against the Bloc's bill in 2010.
But Casey told HuffPost that that comparison isn't fair.
"Parliament is not dealing [with] whether or not we should have physician-assisted death. That decision has been made by the Supreme Court, 9-0," he said. "The only question before Parliament is how do we implement the decision of the Supreme Court."
With files from The Canadian Press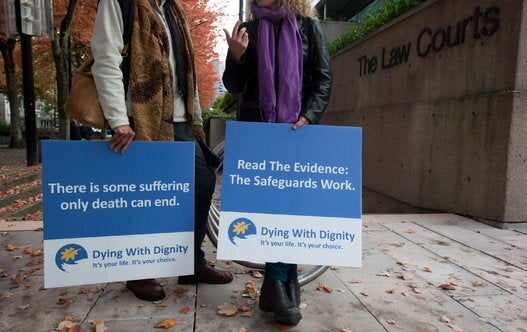 Right-To-Die Laws Around The World