The dry hot season is going out and the cooler rainy season is coming in. Heavy showers have begun to fall and it is a relief for everyone. The rains bring life to the land. Out of dirt springs green. Crops take root. Starvation will hopefully ease. With the rains here in eastern Chad have also come a range of different insects. Large grasshoppers, flying ants and beetles arrive in waves. At night a few seem to get into my bed and tickle me despite my careful tucking of my bednet around my mattress.
Malnutrition is a still a major priority. The hospital is full but under control. In the past few months, we have increased the number of doctors and nurses in the hospital to better manage the situation. MSF is furthermore making a substantial contribution to improve the Amtiman hospital physical structure itself. In addition to having already constructed a new intensive care and triage building, our American construction logistician Gardy and his team are building a new maternity building. This will mean women under our care no longer need to be hospitalized in a tent. A new pharmacy is being built by MSF at the same time. To improve the function of the older buildings, our logistical team led by Ben from Germany is currently rewiring the electrical system for the entire hospital. We've moved all our patients into tents during this rewiring process. Led by our Canadian water and sanitation engineer Diana, we are spraying the wards with a safe insecticide to prevent malaria. These changes will improve the district hospital's function for years to come.
As is the case with MSF, the team is evolving and changing. There are always ins and outs. A large number of experienced MSFers have come in and out en route to the emergency intervention in Tissi, at the tri-border of Chad, Sudan and the Central African Republic. A few of our Chadian staff have gotten married and had children, requiring breaks from their usual jobs with us. Some of our Chadian staff have been integrated into the ranks of the Ministry of Health (which is a positive development), requiring us to hire more nurses. Expats are coming and leaving the Amtiman project as well. Eve our Canadian hospital nurse, has been replaced by Miet, from Belgium, now on her 9th mission. Ben, our German logistician is being replaced by Andreas, another German logistician. Louise, a pharmacist from Ireland has arrived on her first mission.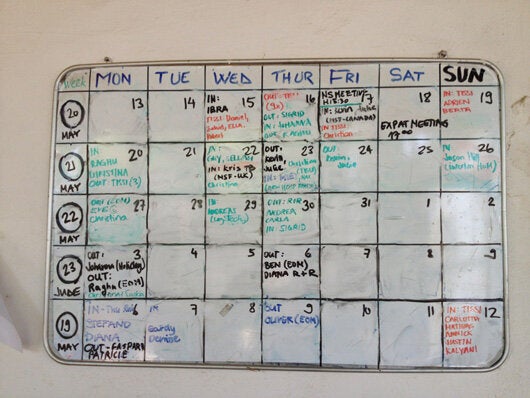 No replacement for my position as medical team leader has been found yet. That's the way it is sometimes in MSF. There is a limited pool of qualified human resources. In this case, the team is flexible and covers for each other. Dr. Carla, a German doctor on her second mission, has agreed to cover my position on an interim basis until MSF can fully replace me. Each day lately, I share a little bit of my current job with Carla, despite her busy job as a hospital doctor. Her flexibility is appreciated by the team. Flexibility and adaptability are key principles in MSF work.
In support of our mission in Chad, MSF has recently deployed to us some welcome visitors. Dr. Krys, from London, UK is specialized in the care of HIV and TB patients. He works at MSF-UK's Manson Unit, which sends HIV/TB experts around the world to work with MSF teams for a few weeks at a time. Krys has loads of field experience. Since is arrival, Dr. Guy from Congo, Krys and myself have rounded on patients and shared ideas with the rest of the team how we can improve the care of patients infected with HIV and TB.
MSF cannot exist without the generous donations from our supporters. For this reason, Julie and Kevin from MSF-Canada traveled to Amtiman this week to gather field testimony and conduct a donor accountability webinar. Eve and myself went live on-line this week, with the help of Kevin and Julie, to talk with our donors and supporters. It was wonderful to have two Canadian friends in the project. They brought a few treats to the team, especially some good old "Kraft dinner" (macaroni and cheese), which to my surprise went down well with all members of the team who hail from around the world. Kevin and Julie also brought some lovely English language books, which are a present to our national staff, many who wish to learn English.
Patient care keeps on going all the time. It is the life-force of MSF. It keeps me most satisfied. Dr. Carla asked me yesterday to co-examine with her a two-year-old boy with sickle cell anemia and a painful, swollen left arm. I examined the child as carefully with my iPhone in his mother's hands playing U2's "With or Without You." U2 is a fine distraction for a child and I like it too. I was rewarded with no crying. A two-month old baby we saw also together was kicked in the head by a camel. A huge hematoma overlay a serious skull fracture. But the baby is breastfeeding and we're hopeful for a good outcome. Another child had a severe cleft lip and palate. We'll keep the baby's name and contact information in a register in case another specialized surgical organization comes here soon who can repair the problem.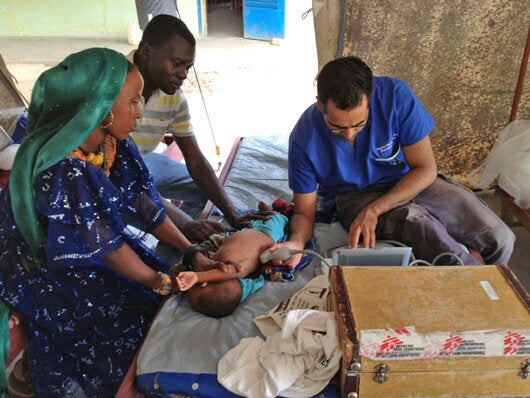 Day in and day out -- examining and performing ultrasonography of a complicated case at the request of the Amtiman medical team. Consent for photo and publication by the family obtained. © Raghu Venugopal
After seeing some patients with Carla, a maternity nurse then rushed over to ask for help for an 18-year-old women in a semi-comatose state. She had recently delivered a child in her village that did not survive. The mother had convulsions in her village and an elevated blood pressure. An ultrasound of her abdomen was normal. So was her malaria test. We treated the young woman for malaria nonetheless, as well as meningitis and hypoglycemia. Despite ongoing care and close attention, she died yesterday -- probably from seizures due to eclampsia, as well as possible bleeding in her brain. This is caused by untreated high blood pressure in pregnancy -- a problem MSF screens for among hundreds of mothers each month. After I first examined this patient I knew her prognosis was grave. I found her brother, and sat down with him on two chairs threatening to fall apart. I explained we would do our best, but the likelihood of survival was limited. Death is around us. But, moreso we are surrounded by life and survival. Day-in and day-out, this is the reality of our work here in eastern Chad.
In one week I am going home. My fiancé Maeve and I are getting married soon. We text, email, Skype and call each other as regularly as possible. The phone bill at the end of my mission will not be small, but every second of contact with her is worth it. She is a strong supporter of my mission and MSF. But the distance is not easy on either of us. I'm lucky to have found such a wonderful partner in life.
The turnover of the team is actually healthy. New ideas and experiences enrich our work and the MSF social movement. It keeps us questioning our relevance, our quality of work and the value of our interventions. It makes MSF the strong organization that it has become, in service of Chadians.
Farewell for now from the house-call....to Chad.