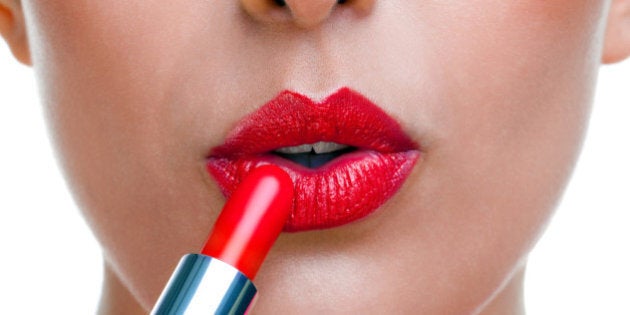 Nine women would say "yes." Apart from the red lipstick and black/red clothing, at first glance the women had little in common. Different ages. Different backgrounds. However, as you heard more of their stories and listened carefully to what was said, and not said, you knew you were witnessing a transformation. Their transformation.
This was the first One Red Lipstick Live event, and nine brave women had stepped forward to give us a glimpse into their lives. They had ten minutes to talk and their presentation was being videotaped which would be enough to make many people truly nervous.
But they weren't. I think that was what impressed me. Oh, I am sure they were inside, but outwardly you would think they did this on a regular basis -- baring their souls to an audience of forty or so women -- some friends, but many complete strangers.
All were small business owners and as part of the One Red Lipstick project, we were filming their stories to showcase how, while these women entrepreneurs appeared to be on the road to success, there was often a real journey and obstacles to be overcome to get there.
Sometimes it was a life event that triggered their change in direction and resulting growth as a person. Take Stacy. Her corporate career could not survive the new demands placed on her after she had her son who was autistic.
As she researched ways to help and support her son, she found that she'd learned a lot about social media, and combining that new skill set with her prior background in marketing, she started her social media business, working mainly with small businesses. It was a way that she could financially help support the family and also be there when she was needed.
She was not alone in her "make lemonade" story and sometimes the crisis ended up pointing the women in new and better directions, even though at the time, it seemed devastating.
For several of the women, it was a slow realization that the messages they'd received as children weren't true, that they were good enough, that they had potential. It was with that new-found knowledge that they'd forged on and pursued their dreams, creating a better life for themselves.
Regardless of the story, there was one constant theme -- that the women had learned to believe in themselves and had the tenacity, and resilience to persevere no matter what.
These were ordinary women -- your next door neighbour, your friend or colleague -- but for ten minutes they had the spotlight, and they shone.
You would think hearing tales of abuse, suicide, or partners with cancer would not make for a fun night out, and while we were all saddened that the women had had to face such painful experiences, it was their resilience, humour and energy that left you moved, touched and inspired.
They'd been there and back, but lived to tell the tale; to share the wisdom and still have a love of life and most importantly, a love of themselves.
The whole One Red Lipstick project was the brainchild of a 20-something videographer, Spenser Chapple. She'd faced her own share of tragedy when her father was struck down at 47 with a life-threatening illness which has left him severely disabled.
Watching her mother pick up the pieces, give up her global corporate career and start a business close to home, so she could look after her family including her four-year old brother, made her realize that behind every success story, there likely is a struggle.
It was her mother's mantra of you put on your red lipstick and get on with your day, no matter what, that inspired the name of the project.
Spenser's goal through One Red Lipstick -- a documentary and accompanying book -- is to inspire young women to pursue their dreams, to create their own futures and to showcase role models -- women who have overcome the odds to succeed.
Next stop is Toronto where we will be filming, and then on to other cities across North America. Because, no matter what your age, we all can do with a dose of inspiration.