The University of Guelph has enrolled an eight-year-old dog from Barrie, Ont., in a transnational study that could improve bone cancer treatment for humans.
It started when Cujo, a Rottweiler, began limping last August.
His owner, Valeria Martinez, noticed he had a bump on his leg and took him in for X-rays, which revealed her dog had osteosarcoma; a bone cancer that also affected — and ultimately took the life of — Canadian activist Terry Fox.
Cujo's left front leg was removed in December, and he began receiving chemotherapy every three weeks.
"Everything ended," Martinez told the University of Guelph, describing how she felt the day she found out Cujo had cancer.
But their hopes were renewed when the University of Guelph's Ontario Veterinary College (OVC) entered Cujo in clinical trials, headed by researchers from Guelph and the United States, as part of a study by the U.S. National Cancer Institute.
Cujo will be the only Canadian canine out of 160 dogs in the study, which will test the effectiveness of a drug called rapamycin.
Osteosarcoma affects dogs, especially large and older ones, 10 times as much as it affects humans. Causes for osteosarcoma in humans include genetics and DNA changes, the American Cancer Society reports.
Radiation therapy, which is used to treat other forms of cancer, has been linked to worsening osteosarcoma, making it problematic for primary treatment.
Martinez, who initially worried about how her dog would live with three legs, is thrilled with her pet's role in giving people hope.
"It's good for learning and good for others for the future," she told the University of Guelph. "He has no more pain, he can do everything."
If the dog trials are successful, research will go onto clinical testing with humans.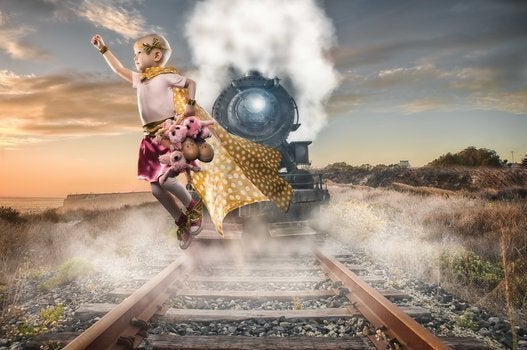 Kids With Cancer Follow Their Dreams In Whimsical Photo Series