Chris Ross, who uploaded the video on Saturday, posted it along with the comment, "Cougar no match for brave dogs: Kovu and Teaka- Highlands, Victoria, Canada."
The video shows the dogs moving around the cat and barking, as the cougar slowly circles around. After over a minute of the three-animal face off, the cougar darts off, the dogs following.
After some commenters questioned the owners' priorities filming the encounter, rather than making the two dogs safe, Ross posted, "To ease your mind I did go out and scare the cougar off our property. We put the dogs inside and got the cougar out of the tree."
Const. Mike Russell says officers were called to an area on Esquimalt Road in the early morning on Wednesday after a man reported he and a friend had spotted a large cougar.
Russell said officers were scouring the area and notifying daycares and other nearby facilities even though they have yet to find the big cat.
Last month, Victoria police issued a similar warning in a downtown neighbourhood after a possible sighting near a community centre.
Officers never did find the animal, but they believed the report was credible.
Anyone who sees a cougar is urged to call 911.
With files from The Canadian Press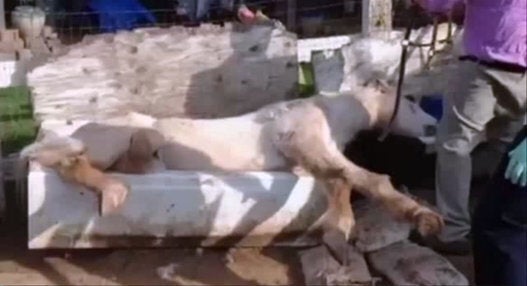 Animals In The News