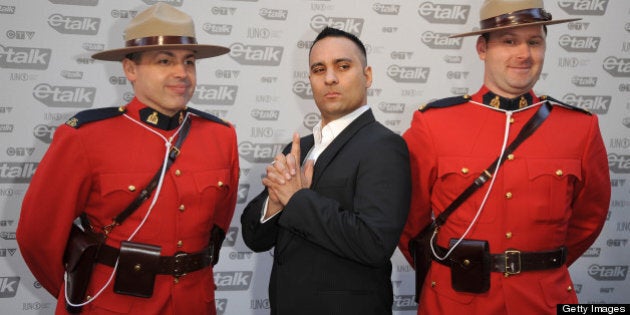 In the 24 hours since I touched down in Regina for the Juno awards, I've been overcome by the stark landscape, the kindness of the locals and the strength of the alcohol in my body. I'm hungover. The NBA playoffs are on TV. The perfect time to write what I remember about last night and distract myself from tonight. Tonight I'll find out if I win an award for best music video. I have no speech.
If you missed my first blog post, you can find it here.
As you touch down, Regina welcomes you with it's flatness. The landscape is as open as everyone I've met. Where you can watch your dog run away for five days. Where you can see clear into the heart of every Reginian.
I have to look that up. Or ask someone. Actually I haven't had a chance to get to know any locals, though I've enjoyed brief chats with amazing Juno volunteers. As I thanked a driver for collecting my sorry drunk ass, she said she'd have to pick up her boyfriend's sorry drunk ass a few hours later. I should have just met up with him to make her job easier.
Thanks to planeloads of musicians and industry-types being shipped in, this town is overrun with chatter about the music business. From the self-aggrandizing (rare-- we're Canadian) to the self-deprecating (not rare-- we're Canadian) it's non-stop music biz talk. It was a loud plane ride. Everyone knows everyone.
It was so freaking awesome to have someone, who has no relation to me at all, meet me at the airport with a sign with my name on it. A lifelong dream. I dream big. I don't know why I haven't paid to have someone do that for me in the past. Everyone should know that joy. They should offer a service. Not even the ride. Just the sign.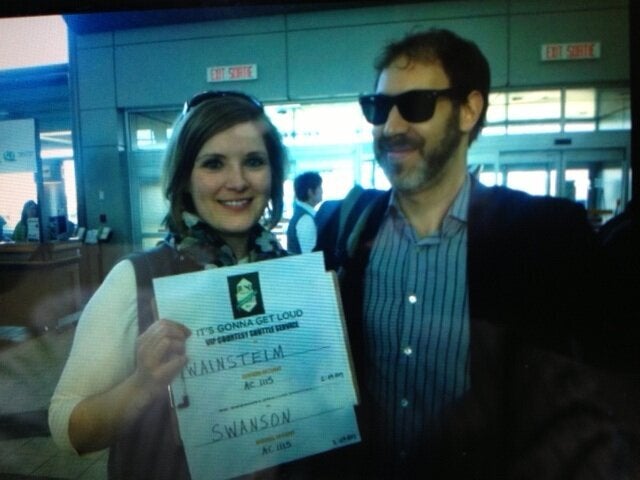 When the haze of joy finally lifted, I found myself at the Juno reception which was held at a Mountie training facility. There were Mounties everywhere. Tall Mounties. Short Mounties. Dog Mounties. The place was lousy with Mounties. Some were drinking. One was doing a little dance. A little Mountie dance. They happily posed for pictures and generally seemed bemused to see their joint overrun with music industry types. I pulled one aside and asked if this was what a Mountie party was like. She said that the Mountie parties were rare and generally quite reserved but that Mounties do know how to kick back. She described something to me in confidence. A move known as "Doing the Full Mountie." All I can say is it involves confiscated materials and the entire circumference of their hat brim.
Moving on...I summoned my guile and special ninja abilities to sneak into the Manitoba party (not a political group). This cocky bunch was already pre-celebrating next year's Junos that will be held in Winnipeg. They couldn't even let Regina have all the glory on this, the first night. To sneak into any party run by people from Winnipeg, all one has to do is contort one's face into a smile and then employ a nodding head motion. The deception worked. I was welcomed into the fold.
The Manitoba party had such luminaries as Fred Penner and free shrimp. I had a suspicion that only one of those was native to Manitoba. Someone I spoke with half remembered that Penner being involved in some scandal. I looked into it but couldn't verify anything, though Fred did seem kind of shifty. (Insert "The Cat Came Back" innuendo of choice.)
I chatted with legendary Canadian music writer Larry LeBlanc who will be receiving the Walt Grealis Special Achievement Award. Larry was the highlight of the night. If you have a chance to corner Larry outside a bathroom stall at a Manitoba Party (or a party celebrating any province's achievements) I seriously can't recommend it highly enough. Larry worked for Rolling Stone when he was 18. He's been at press conferences with John Lennon, takes a great Joni Mitchell photo, and gets calls from Céline Dion who just likes to joke with him. Larry's got a story about everyone. He's humble and lovable and was totally willing to play my game of "Who's The Nicest and Who's the Biggest Asshole." Later, he and Fred Penner got into a shoving match about something. I was far away at the time but they almost knocked over what was left of the shrimp tray.
I quickly ran out and headed to a student bar to catch some live music. Hannah Georgas was awesome. She had a fairly rowdy university crowd eating out of her hand. Astounding. That's all there was to that. Quick bop back to have a final drink (or few) in the opulent and ornate high ceilinged hotel bar. Super chill crowd with some people I know. I gotta say, the astounding thing about the awards is how much casual humility Canadian musicians have. Or maybe it's Regina that brings it out in them.