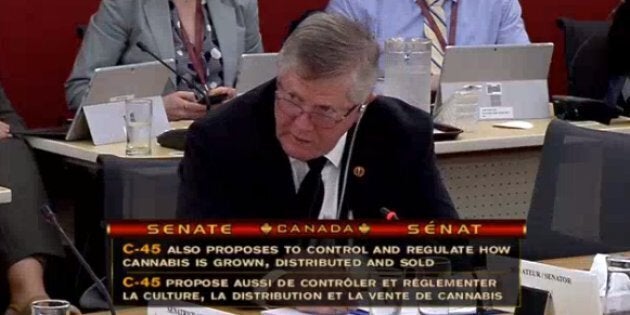 OTTAWA — Conservative Sen. Don Plett told a Senate committee Monday that he smoked marijuana 50 years ago and is now concerned he may be barred entry into the United States if a border agent asks.
The Manitoba senator made the admission as the government's pot czar, Liberal MP and former Toronto police chief Bill Blair, appeared at the Senate's social affairs, science, and technology committee. The group is tasked with reviewing the government's marijuana legalization bill, clause by clause.
"Hope you give us your phone number that we can call you from the border," Plett said to Blair.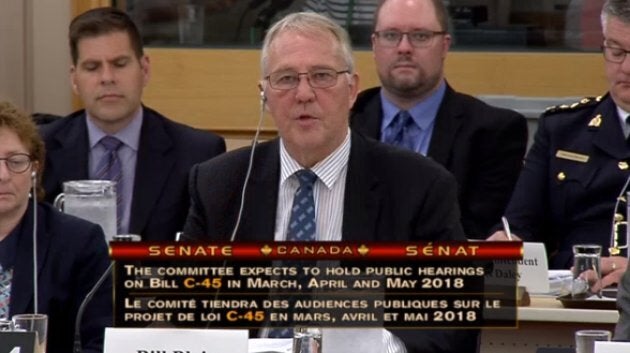 "I have smoked marijuana when I was 18 years old," Plett said. "And I may be asked that question."
While the veteran Conservative encouraged Canadians to be truthful with U.S. law enforcement if the question is asked, Plett raised concerns about the practice expected to be more commonplace after marijuana is legalized.
He brought up the government's warning to Canadians last month that travellers may be denied entry in a foreign country if they've used cannabis products — even under medical or legal reasons.
'I do not anticipate that it will be a significant issue'
Blair told the committee that he believes in telling the truth. He played down concerns about the risk of Canadians being banned from the U.S. for life because of weed consumed in the past.
"Frankly, I've crossed the border myself hundreds of times. I've never been asked about illegal drug use," said the Liberal MP. "I do not anticipate that it will be a significant issue for Canadians."
Blair said Canadian authorities are working closely with U.S. law enforcement to "minimize any challenges" at the border and to ensure travellers are treated fairly.
He said under the current system of mostly unregulated marijuana, "our kids are at enormous jeopardy, in my opinion." He said organized crime has "100% control over this market."
Bill C-45 is a framework open to technical amendments "when they make sense" to give Canadians the best laws and protections, he said.
Watch: Here's why passing weed laws in Canada takes so long
Public Safety Minister Ralph Goodale previously called the border issue one that puts Canadian travellers in a "ridiculous situation" and pledged to have discussions with U.S. authorities on the matter.
Admissibility decisions are on a case-by-case basis, according to U.S. Customs and Border Protection (CBP).
"Although medical and recreational marijuana may be legal in some U.S. States and Canada, the sale, possession, production and distribution of marijuana all remain illegal under U.S. federal law," a CBP spokesperson told HuffPost in a statement.
"Consequently, crossing the border or arriving at a U.S. port of entry with marijuana is prohibited and may result in seizure, fines, and apprehension."
U.S. border agents are the "first line of defense in preventing the illegal importation of narcotics, including marijuana," wrote the spokesperson.
"If a CBP officer suspects a traveler of driving a vehicle under the influence of marijuana, CBP will coordinate response with the proper local authorities."
Bringing marijuana into the states is a violation of U.S. federal law.
Provinces and territories need time, Blair says
The government is facing a time crunch to pass its marijuana legalization bill — one of the Liberals' key election promises — before Parliament rises for summer next month.
While the opposition slapped at their desks, Government House Leader Bardish Chagger introduced a motion on Monday to extend MPs' sitting hours into the evening.
The government's leader in the Senate said earlier this month that the upper chamber may extend its session into the summer in order to pass the bills related to marijuana legalization.
C-45 is currently at the committee level in the Senate, under study. There are at least 49 proposed amendments to the government bill. Conservative senators have repeatedly criticized it for being inherently flawed in its design.
If the bill gets royal assent before parliamentarians go on break, new health and legal regulations won't come into force until this fall at earliest.
Blair said the provinces and territories requested some time to ensure the rollout and "orderly implementation" of regulations to allow Canadians to legally buy recreational marijuana after it becomes law.
"What they have told us is they need eight to 12 weeks following royal assent to affect a responsible implementation," he said.
"So we're working on that timetable."