The executive vice-president of The Trump Organization and son of the presumptive Republican presidential nominee sat down with The Huffington Post Canada in Vancouver this week, where he was asked to respond to Mulcair's insult.
In late March, the NDP leaked a video of Mulcair blasting Donald Trump and criticizing Prime Minister Justin Trudeau for, in his view, shrugging his shoulders whenever he's asked about the GOP front-runner.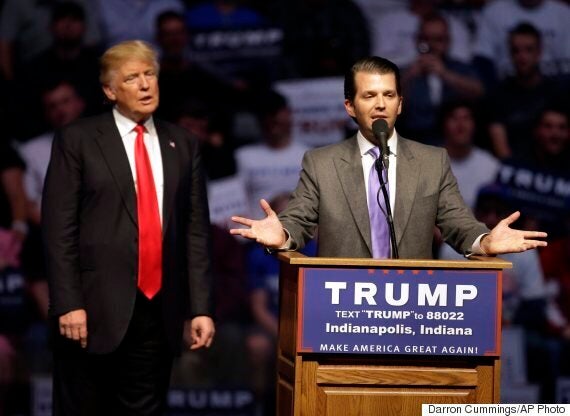 Donald Trump, Jr. speaks as Republican presidential candidate Donald Trump listens during a campaign stop April 27, 2016, in Indianapolis. (Photo: Darron Cummings/AP)
Mulcair pointed to Trump's pledge to temporarily ban Muslims from entering the United States and to build a wall along the Mexican border to crack down on illegal immigration.
"When you say you say you want to keep people out [who are] of a certain religion, if you want to build walls to keep people out, this is an appeal to the lowest feelings in human nature," Mulcair said at the time.
"I'm sorry, if a fascist becomes president of the United States, I want to be on record as having opposed it long before that election."
'It's actually disgusting'
While he did not mention Mulcair by name, Trump Jr., 38, told HuffPost on Thursday that such remarks "do a big disservice to people who are actually affected by racism." He said "everyone on the left" tries to play the "race card" when it comes to his dad's campaign because they are losing the argument.
"That's a problem when they throw it out there so haphazardly," he said.
Trump Jr. noted that some have equated his father to a Nazi.
"It's actually disgusting that you'd even make the comparison and that they'd actually make that comparison at that high a level," he said.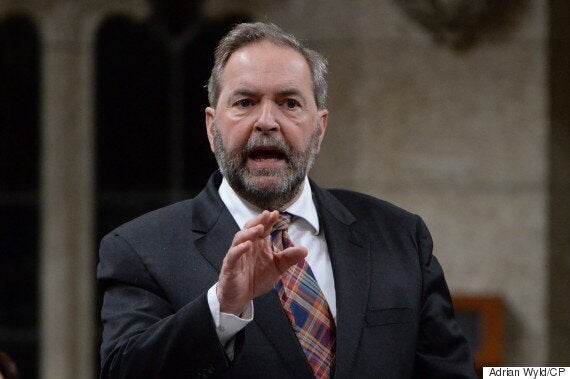 NDP Leader Tom Mulcair takes part in a debate on the federal budget in the House of Commons on Tuesday, April 12, 2016. (Photo: Adrian Wyld/CP)
Trump Jr. blamed the media for creating "faux outrage" just to chase headlines and fill a 24-hour news cycle. He suggested his father isn't concerned about the petitions being signed by people sitting at home with "nothing to do."
The businessman added that it has been "pretty special" to see how his father has brought once "taboo issues" into the mainstream.
"He's actually opened up a real dialogue rather than pretending that real issues aren't issues and sticking your head in the sand like most politicians do," he said.
Trump presidency will be good for Canada-U.S. relations
Trump Jr. told HuffPost that Canadians can expect good things if his dad makes it all the way to the White House.
"We don't have any issue with Canada," he said. "We don't have an issue with, frankly, any countries."
He said his dad's main focus will be on creating a robust economy in the United States and putting people back to work.
"I think that benefits everyone, especially our closest neighbours," he said.
On the proposed Keystone XL pipeline — an issue that in many ways defined the relationship between U.S. President Barack Obama and former prime minister Stephen Harper — Trump is on the record saying he's "not in love" with taking Canadian oil.
The likely GOP nominee has said he would reject Keystone if the U.S. can't score "a big chunk of the profits."
Trump easily won the Indiana Republican primary Wednesday. His path to the party's nomination became unobstructed after his only remaining rivals — Texas Sen. Ted Cruz and Ohio Gov. John Kasich — dropped out.
With files from Rhianna Schmunk, The Canadian Press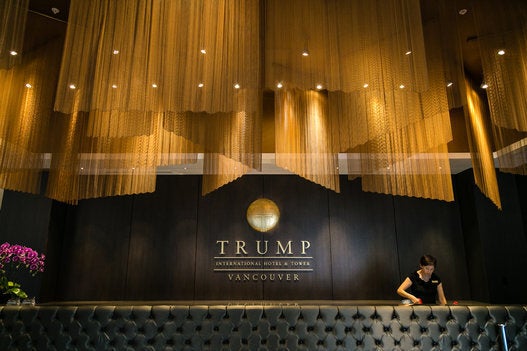 Vancouver Trump International Hotel & Tower