Almost four-in-five Canadians are troubled by the idea of Donald Trump becoming the next United States president, a new poll suggests.
According to numbers from Insights West released on Tuesday, 79 per cent of Canadians say they are "very" or "moderately" concerned about the possibility the wildly-controversial Republican could win the White House.
Just six per cent told the firm they aren't worried at all in a survey conducted last week.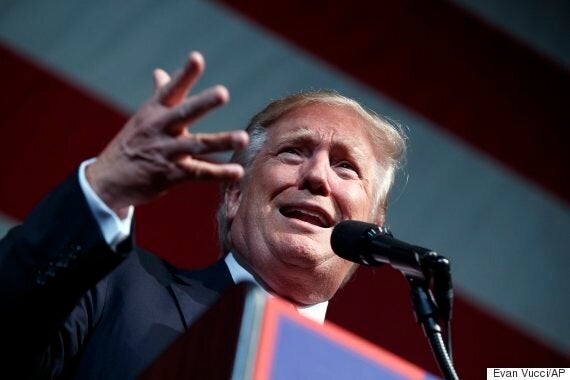 Republican presidential candidate Donald Trump speaks at a campaign rally in Fayetteville, N.C. (Photo: Evan Vucci/AP)
By comparison, 42 per cent said they are "very" or "moderately" worried about Democratic presidential candidate Hillary Clinton becoming president. Forty-nine per cent said they are "not too concerned" or not concerned at all about the possibility she could win.
A strong majority also thinks a Trump presidency would be a nightmare for this country.
Sixty-four per cent told the firm it would be "very bad for Canada" if Trump wins, while another 14 per cent said it would be "bad." That represents a 16-per cent spike from when the question was asked the same time last year.
When asked about a Clinton presidency, 27 per cent said it would be "bad" or "very bad" for Canada, compared to 47 per cent who said the result would be "good" or "very good."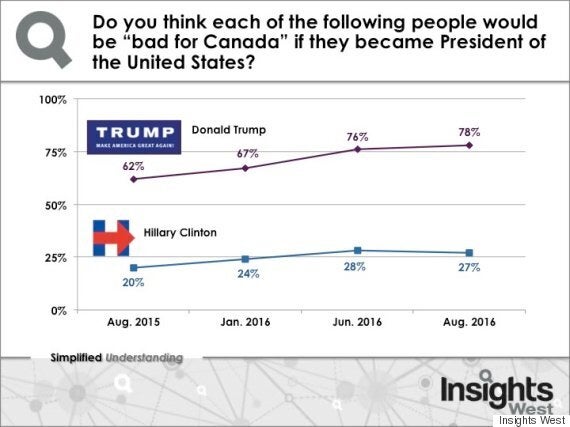 Voters who supported the New Democratic Party in the 2015 federal election were most likely to find the notion of a Trump presidency repugnant. Ninety-two per cent of NDP voters said Trump would be "bad" or "very bad" for this country.
NDP Leader Thomas Mulcair labelled Trump a "fascist" in March because of the GOP nominee's pledge to temporarily ban Muslims from entering the country and to build a wall along the Mexican border to thwart illegal immigration. Donald Trump Jr. later told The Huffington Post Canada that Mulcair's remark was "nonsense."
But the numbers suggest that opposition to Trump cuts across political divides in this country. Seventy-seven per cent of Liberal voters said they reject Trump, while 62 per cent of Conservative supporters feel the same.
Top Canadian Conservatives no fans of Trump
For months now, Prime Minister Justin Trudeau has ducked invitations to directly criticize Trump, typically by saying he has confidence Americans will make the right decision and that he rejects the politics of fear.
Several top Conservatives, however, have made it clear they do not support Trump's brand of politics.
On Tuesday, Tory finance critic and possible leadership contender Lisa Raitt took to Twitter to comment on the latest Trump controversy — his suggestion that "the Second Amendment people" might stop Clinton from appointing Supreme Court justices.
Raitt referenced British MP Jo Cox, who was fatally shot in June, and former U.S. Rep. Gabby Giffords, who survived a gunman's attack in 2011.
"I don't know how these words can be spun by his team," Raitt tweeted.
The poll also suggests Canadians are paying close attention to what's happening south of the border.
Forty-eight per cent of respondents said they are following the presidential race more than those in the past. Nearly half think the coverage from Canadian television newscasts, newspapers, and radio stations has been adequate.
However, one-in-four told the firm there has been too much TV exposure on the race.
Pollster: Trump concern 'remains extremely high'
Mario Canseco, vice president of public affairs for Insights West, said in a release that Canadians are "appreciative of the coverage they are getting from domestic media outlets."
And, with the vote less than 100 days away, "the level of concern about a Donald Trump victory remains extremely high."
The online poll was conducted between August 1 and 4 among 1,002 adult Canadians, with the data statistically weighted according to census figures for gender, age, and region. The margin of error is 3.1 percentage points, 19 times out of 20.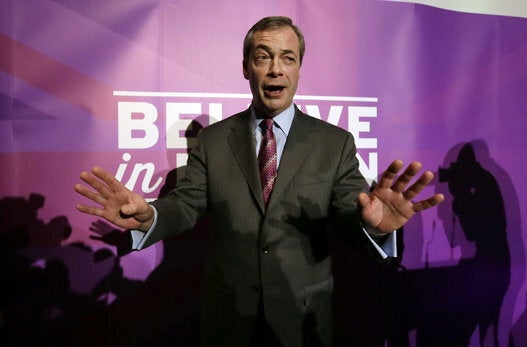 Trumps Around The World