U.S. President Donald Trump told reporters he was shocked to see photos of Liberal Leader Justin Trudeau in brown and blackface Friday.
"I was hoping I wouldn't be asked that question … You had to ask me that question, right?" Trump said at the White House, after a journalist asked if he thought Trudeau could survive the scandal.
"I'm surprised. I was more surprised when I saw the number of times."
Photos have emerged of Trudeau dressed up in brown and blackface on three different occasions this week. The photos, which date to the 1980s, '90s and early 2000s, have been confirmed authentic by the Liberal party.
Trudeau has apologized and said he doesn't remember how many times he dressed up in racist makeup.
Trump went on to say he has always had a "good relationship with Justin."
"I just don't know what to tell you. I was surprised by it."
At his own press conference Friday, a reporter told Trudeau what the president had said and asked how this story would affect Canada's international reputation and his credibility as a world leader.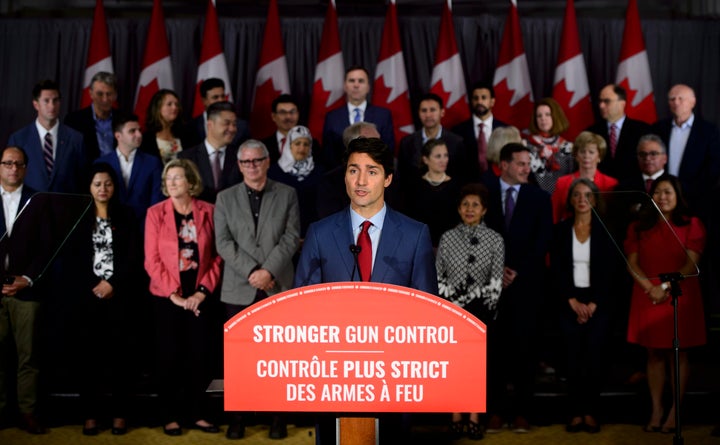 "My focus is on Canadians who face discrimination every day ... who I hurt," Trudeau said.
"People who, in many cases, considered me to be an ally, who are deeply hurt by the terrible choices I made many years ago. I apologize deeply to them and I will focus on continuing what I have tried to do as a leader which is always stand against racism and discrimination at home and on the world stage."
Watch: Trudeau faces controversy as racist images surface
Trudeau has been hailed by American media as the antidote to Trump, a leader with his own long, long history of racism.
The president caused a firestorm of criticism in July when he said that four congresswomen, all women of colour, should "go back" to the "totally broken and crime infested places from which they came." He also said the congresswomen "hate" the U.S.
Trump famously said there were "very fine people" among the white supremacists and neo-Nazis who marched at a deadly 2017 rally in Charlottesville, Va. The demonstrators he was talking about chanted slogans that included, "Jews will not replace us."
He campaigned on a promise to build a physical wall to keep Mexican people out of the U.S., people whom he has referred to as criminals and "rapists."
When Trump was president of his family's real estate company in the 1970s, the U.S. Justice Department sued the company twice for refusing to rent to black people. He has also referred to Mexican people as "rapists."