Vancouver's skyline is about to get a little twisted.
The Donald himself arrived in Vancouver Wednesday — flanked by his children, Ivanka, Donald Jr. and Eric — to announce the $360-million Trump Vancouver International Tower, a 63-storey hotel and residence property with an ambitious twisted structure designed by the late Vancouver modernist architect Arthur Erickson.
Trump — whose presence was enough to briefly quieten adjacent construction work, though not to generate rain on cue for a photo shoot with Trump-branded gold umbrellas — said the project "means beauty, but it also means very expensive, because it is a very expensive building to build."
Speaking off-the-cuff, and taking no questions from the assembled press, Trump was lavish in his praise of Vancouver and Vancouverites.
"I have so many friends here. Between Facebook and Twitter — this is a new world. Three million people, and Ivanka has another million, so four million people saying 'Enjoy Vancouver today, Mr Trump.' I thought it was so nice.
"It's an amazing place. It's a magnificent place," he proclaimed effusively. "And we're going to make it more beautiful.
"It's going to be one of the great buildings ... in the world. It's going to be that good."
The development will boast a top-class restaurant, pool bar and nightclub. It will also host the Mar-a-Lago Spa, to be operated by his daughter, Ivanka Trump - the first time, Trump said, that he has allowed the Mar-a-Lago name to be used anywhere other than its signature spot in Palm Beach, Florida.
"I don't use spas as much as I should," he grinned. "But she does."
He said that the Erickson design was one of two projects in the city open to the company, but that he has no second thoughts about his choice.
"We have a special family, and we have special companies, and we're going to make it good," he said. "We're going to make it the best."
The family's lead on the project is Trump's son, Donald Jr., who, in an interview with The Huffington Post B.C., explained how they first became involved.
"It started off sort of interesting," he proffered. "I remember seeing an article about the project and the building and thinking, 'Wow that's a sexy building. Let's see if there's anything we can do there'. So I reached out to Joo Kim [Tiah] and Holborn Group, and about a week later I get an article from my father with a note saying, 'Look at this building — go get that'."
Story continues under gallery.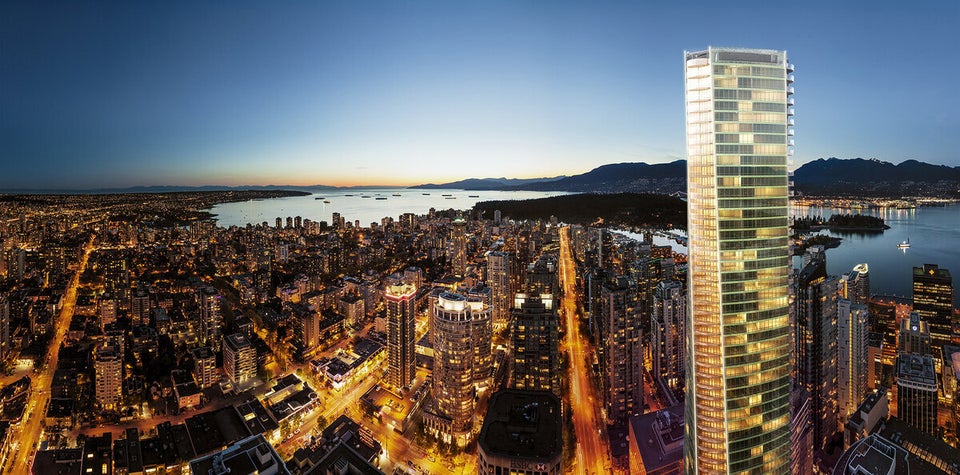 Vancouver Trump Tower Reaction
Like the family's first foray into the Canadian market — Toronto's Trump International Hotel & Tower — their relationship to the project is not about investment and development.
"We're branding it and managing the hotel," Donald Jr. clarified. "The developer is Holborn. They are the guys locally building it, and we're coming in and helping with the design, the interior design...branding and marketing, obviously - and ultimately the hotel management and the management of the residences."
"Not at all," he insisted. "I don't think we had an unsmooth ride in Toronto, other than some people who bought in 2005, '06 and '07 had a different mindset to what the world was by the time it came to closing.
"But again, a lot of that is not us, it's the developer in Toronto. The hotel is getting incredible accolades and that's what we are intimately involved in."
The Vancouver hotel will, he said, reflect the city in which it sits.
"It's important to work with, in this case a local architect, local interior design firms - and if there's a great restaurateur at the level of the quality we have in mind, then we'll look at that.
"We never say, 'We're from New York and this is what we do and we're dong it the New York way'. I think we're well-travelled enough, and well-cultured enough to understand the subtle nuances and bring the best of what we have to the table and blend in with the local market place."
George Wong, principle of Magnum Projects, the real estate marketing and sales strategist for the new Vancouver tower, said he isn't worried the Toronto tower's woes will impact investor confidence in Vancouver.
"We looked at the entire portfolio of Trump properties, which involves golf courses, hotels, residential towers and the percentage of success is almost one hundred per cent," he said. "Of course, there are always exceptions to the case, but in Trump's case, his successes far exceed those that are not successful."
The building will have guest rooms as well as luxury residences ranging from 644 to 2,117 square feet. Penthouses will be between 3,500 and 4,400 square feet. The price of the residences have not been announced.
Joo Kim Tiah, CEO and president of Holborn Group, did not disclose possible prices for the units. When asked by reporters whether he expects the residences to be bought by locals or overseas investors, he skirted the question.
"The Trump brand is synonymous with real estate, and success and quality of the highest degree," he said. "I think it will definitely resonate with anyone who relates to those traits."
Tiah also said he is not concerned about a cooling real estate market in Canada, calling Vancouver's Trump Tower a "once-in-a-lifetime opportunity."
With a file from The Canadian Press