The Vancouver Police Department are hoping that the relaunch of the "Don't Be That Guy" campaign will drive home the message that "sex without consent is sexual assault."
Police hope the attention-grabbing images – first seen in a 2011 campaign – will influence the behaviour of men aged 19-25 to "Don't Be That Guy."
"This is a really serious problem in our city," said Wendy Potter from Sexual Assault Services at B.C. Women's Hospital during a press conference Thursday.
"At our program we see about 300 victims of sexual assault a year, and about 40 of those victims are coming to us with histories of being drugged and sexually assaulted," Potter said.
Police announced a three-pronged strategy to curb alcohol and drugs-facilitated sexual abuse: posters in entertainment-district bars, training bar staff to spot potential victims, and street-patrol officers to identify vulnerable victims among crowds.
The campaign's end goal is "to reduce violence against women in the City of Vancouver," said police Sgt. Richard Rabinovitch at the press conference.
According to the VPD, the "Don't Be That Guy" campaign has attracted the attention of police departments from across Canada, the United States, and Europe. In 201, Vancouver police credited the posters with a 10 per cent reduction in reported sex assault cases, The Globe and Mail reported.
Preview the posters here: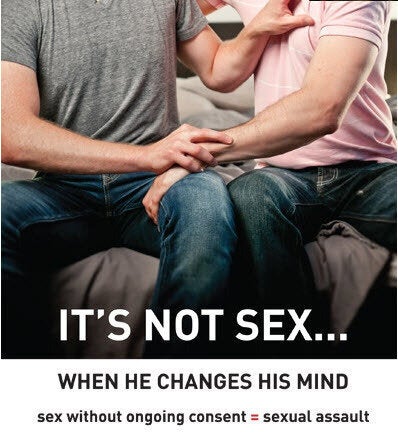 "Don't Be That Guy" Campaign