The crisis at mortgage lender Home Capital is putting pressure on other Canadian lenders, who have seen their share prices drop, and — in some cases — depositors withdrawing their money.
That's been the case with Equitable Bank, known online as EQ Bank, which on Wednesday announced it had secured a $2-billion line of credit, just in case, from Canada's "big six" banks. Those are Bank of Montreal, CIBC, National Bank, Royal Bank of Canada, Scotiabank and TD Bank.
"Bankers know the industry best and if all six of Canada's largest banks have the confidence to support Equitable Bank, it is evident that our customers, whether they be savers and depositors or borrowers, should have similar confidence," Andrew Moor said in a statement.
It's precisely confidence that Equitable is worried about. The bank saw a small run on its deposits last week, losing some $75 million, or 2.4 per cent of the total, according to a report in the Globe and Mail. By contrast, Home Capital lost 72 per cent of its high-interest deposits last week, falling to $391 million from $1.4 billion.
Equitable's shares were trading at $45.80 as of mid-day Wednesday, down more than 25 per cent since the Home Capital crisis exploded last week.
That decline comes despite the fact the bank reported record-high earnings on Monday, with profit up 55 per cent in the first quarter of 2017, compared to the same period a year earlier. Its mortgages under management expanded 23 per cent in a year, to $21.7 billion.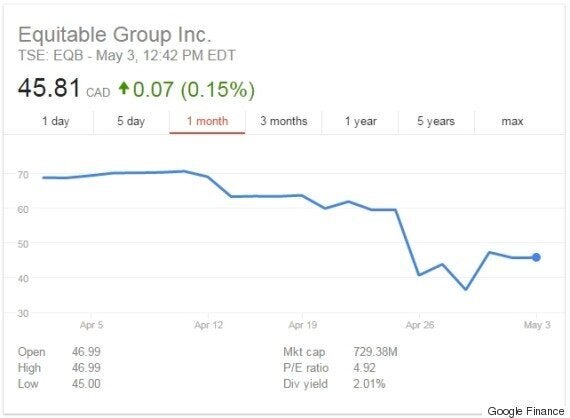 "It's unfortunate that banks, including ourselves, are drawn into the mix, particularly since our approach to bank governance and our internal controls are vastly different [from Home Capital] and the fundamentals are only getting stronger," Moor said earlier this week.
The bank stressed the favourable terms it got on its loan from Canada's big six banks — it will pay interest of 0.6 percentage points above what Equitable's own GICs pay.
"If the [line of credit] is used, it will allow Equitable to continue growing profitably," the bank said in a statement.
Despite Equitable's troubles, many experts say any contagion from Home Capital's crisis will be limited. And though some observers wonder whether this is a "black swan" event that will topple Canada's housing bubble, most experts say the possibility is slim.
Even those who are pessimistic about Canadian real estate going forward doubt that Home Capital will be what tanks the market.
Home Capital's troubles "don't necessarily mark the end of the housing boom, since it is too small to matter," wrote Paul Madani, senior Canada economist at Capital Economics.
Still, Madani suggested that the proliferation of alternative lenders like Home Capital could be cause for concern.
The situation "does have some potentially ominous parallels with what happened in the U.S. a decade ago, when non-bank lenders like Countrywide ruled supreme," Madani said, referring to a mortgage lender that collapsed during the U.S.'s housing bust.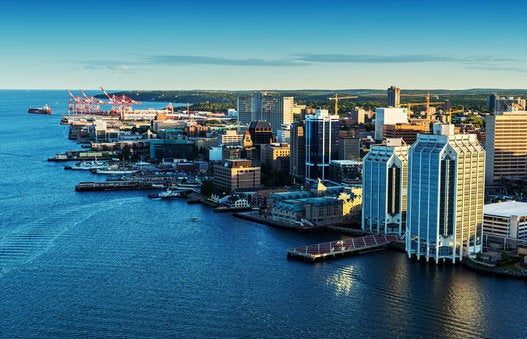 Canada's Best Cities With Houses Under $400K