A management consultant in his 40s moved to California. A lawyer in his 40s is likely heading to Vancouver Island. Eveline Xia lists off other friends with decent salaries and in-demand jobs who are wondering how long they can afford to live in Vancouver. Even an ER doctor she knows can't buy a home in the city.
Xia, 29, rents a two-bedroom apartment near Mount Pleasant but aspires to buy a "modest space to raise two kids until they're 18." They are typical dreams in an atypical city when it comes to the real estate market.
In Metro Vancouver, prices show no sign of slowing down. A Royal LePage survey, released Wednesday, shows the average two-storey detached home in Vancouver and North Shore now sells for more than $1.27 million, a 10-per-cent jump since last year's first quarter, while condos rose almost five per cent to an average $500,000.
In comparison, the average two-storey home in Canada is $451,462, according to Royal LePage, while a condo is $261,782.
Some of the Vancouver values are driven by international buyers, attracted by the region's natural setting, educational opportunities, and the low Canadian dollar. If current trends continue, the average price of a detached house in Vancouver could hit more than $2.1 million by 2030, predicted a Vancity report in March.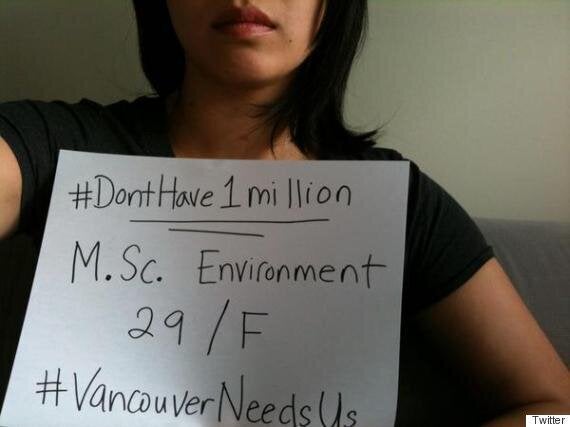 "It's ludicrous to think that average hard-working folks are expected to have that $1 million in hand to own a home," said Xia. "For an average salary, it would take a ballpark of 40 years to save enough for just the 25 per cent down payment!"
In fact, a new UBC study found the average young person spends more years in school than the previous generation, then must work five years more to save a down payment on a standard home in Canada.
"Canadians in their mid-40s and younger earn thousands less for full-time work compared to 1976-1980 even though they devote years more to post secondary," wrote study author Paul Kershaw.
"Higher mortgages reflect the reality of getting into the housing market when the timing is not nearly as fortuitous as it was in 1977."
The daunting numbers motivated Xia to join Twitter and start the #DontHave1Million campaign. She's encouraging Vancouver residents — who don't have $1 million — to post photos of themselves with descriptions of their jobs and age.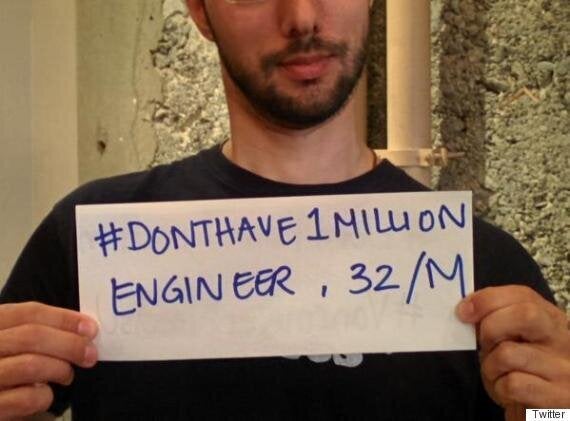 Xia said she wants the city's "average" folks sharing their stories, and for the rest of Canada to be shocked that even engineers and accountants can't afford to buy homes in Vancouver.
"I had never used Twitter before but felt compelled to lend my voice recently to the legions of frustrated residents of this city who feel like Vancouver is being sold out right underneath our feet," she told The Huffington Post B.C. in an email.
Xia believes elected officials hold the key to solutions. A recent UBC study from the School of Population and Public Health suggests the same thing.
The report says governments need to take another look at how they're fuelling generational inequality between house-rich, aging baby boomers, and cash-strapped young people. Currently, governments spend less than $12,000 on benefits and services per Canadian under 45 years old, compared to more than $33,000 for every retiree, according to Kershaw's Generation Squeeze project.
A recent blog by Saeid Fard, president of Vancouver startup Sokanu, highlighted the decline of Vancouver's ability to keep talented people, who in turn, fuel vibrant communities:
While Vancouver has an initial charm and beauty that draws in talent, eventually as that talent ages and wants the kinds of things most people do like a house and a family, many can't afford to stay, and leave for places like Seattle or the east coast where the cost of living is lower and salaries higher. I personally know several people that fall into this camp - I have tried to hire them.

Recruiting talent to this city is easy, but retaining it is not. The engine of startups and innovative businesses are its people, and when highly educated folks making six figures still can't afford to live in your city (and it takes over an hour's commute to get to downtown from slightly more affordable areas), you simply don't have the conditions to grow a knowledge economy.
"I feel like if I leave Vancouver, I and others like me will be contributing to the brain drain problem. If people like doctors, engineers, and professionals like me move away, what kind of city are we leaving?" she said.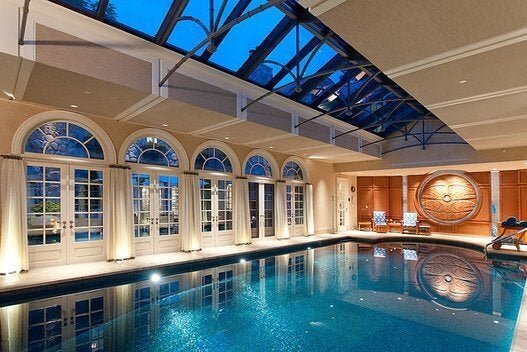 Vancouver Mansion Sold For $51 Million
Popular in the Community