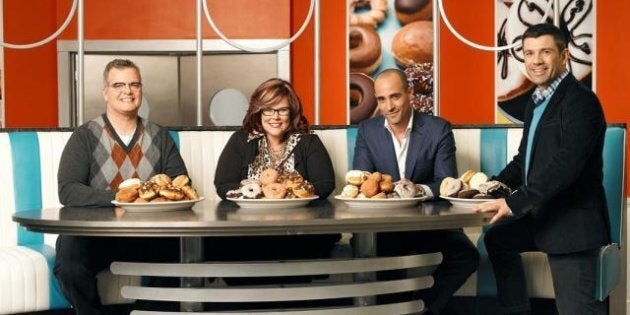 Last Wednesday, one of my dreams came true. And that dream, my friends, was to eat donuts like it was (literally) my job.
The new series -- nay, the stuff of Homer's fantasies -- called "Donut Showdown", premieres on Tuesday night. On the show, donut chefs (prior to this tasting, I did not know there was such a thing) from across North America compete for a $10,000 prize.
I attended a tasting where three of the competitors were tasked with creating a spring-themed display at least three feet high, using at least 100 donuts. Members of the media tasted the donuts and rated the bakers based on different criteria, including taste and how well the display fits the theme.
Rachelle Cadwell -- Dough By Rachelle
She created an impressive basket constructed of crullers and filled with spring-themed donuts. The basket itself took about a half-hour to make, but including actually making the donuts, it was about five or six hours total. I tried a lemon-filled donut hole and let's just say it was very, very lemony. Far too lemony for my liking.
Amanda Hamer -- Barque Smokehouse
Amanda's theme was "carnival" and she had doughnuts topped with funnel cake segments and cotton candy, as well as the popular and disgusting-sounding bacon chocolate donuts. I was confused by her theme, as any carnival I've been to takes place in the summer, but I liked her display so I let it go. You wouldn't think it, but the bacon chocolate donuts were delicious in a weird sort of way.
Grayson Sherman -- Jelly Modern Doughnuts
Originally from Calgary, he's in the process of setting up shop in Toronto. His theme was "Cherry Pink and Apple Blossom White," which is a song from the 1950s. His donuts were my favourite by far and his decorations were pretty, but he couldn't compete with the creativity of the other two displays. But he set himself apart when he was asked what kind of donut he would create for Mayor Rob Ford, and he said that it would have to contain a lot of alcohol. I think he'll fit into Toronto just fine.
Other random facts I learned at the tasting:
1. A small space fills up fast when broadcast journalists are involved. I was dodging cameras like I was a slalom skier. I'm a little worried about whether I show up in the background of the segments, and what exactly I was doing. When I eat donuts, all bets are off; someone probably caught me stuffing one of Grayson's donuts in my face like I had just returned from the The Hunger Games. In fact, I'm almost positive that I can hear myself in the background of David Menzies' segment for the Sun News Network at around the one minute mark.
2. Host Danny Boome will not get to consume any of the donuts over the course of his tenure on the show, although he says they are "very, very tempting." He makes it a rule to not sample any food on any show he hosts. I envision him like a modern-day Tantalus: the food is so close to him, and yet he can never reach it. Tragic.
3. These people don't just bake donuts: they are passionate about donuts. Grayson is sure that not only are donuts in the process of surpassing cupcakes in trendiness, but that they have "arrived."
4. Judge Zane Caplansky really, really loves donuts. He says that judging donuts was the best job he ever had, and that "it's not even an impossible dream: it's the dream you dare not dream." He also expressed disdain for the sameness of cupcakes, and says that there are many different kinds of donuts, which makes them superior. He was very persuasive.
5. I am a glutton. Before I left, I made sure no one was around and then approached Grayson and said, "If I take another donut from you, will you keep it a secret?" like I was Deep Throat and he was Bob Woodward. I also grabbed a bacon chocolate donut from Amanda's display and smuggled it away for later. In retrospect, I'm not sure if all the donuts from the displays were fair game. Oops.
In the end, Rachelle's basket display won out, netting her $1, 000 and a supply of Bounty paper towels -- which she indicated with a gesture like one of Barker's Beauties -- and I headed home to enjoy my own bounty of donuts. I highly encourage you to do the same.
"Donut Showdown" premieres on The Food Network on Tuesday, April 2 at 10 p.m. ET.