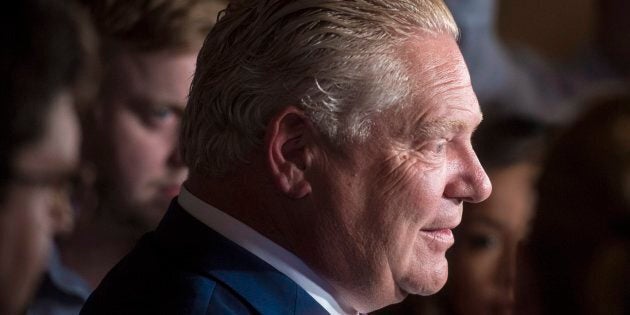 The contrast between Ontario's outgoing and incoming premiers was stark on Sunday as the province's capital city celebrated Pride.
As she has done for years, Premier Kathleen Wynne, Ontario's first female and first openly gay leader, marched in the Toronto Pride parade with her partner. Premier-designate Doug Ford did not participate.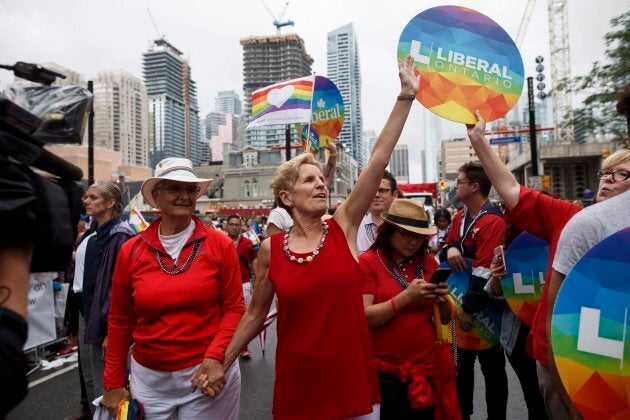 Ford confirmed on Thursday that he would not attend the event until police are allowed to march in uniform.
"I support our police. And I support our LGBT community, and what they want, when I spoke to them ... they want lower gas prices, they want responsible government, and when they call I'll be at their door just as quick as I'm gonna be at anyone else's door," he told reporters.
Ontario NDP Leader Andrea Horwath, who will lead the official Opposition when Ford is sworn in on Friday, attended Sunday's parade. When asked about Ford's absence, she said it's important for politicians to embrace the LGBTQ community.
"A premier of a province is a premier for everyone," she told CP24. "I'm hoping that he changes his mind next year."
The network also asked Wynne about Ford's absence. She didn't comment directly, but said that Ontario and Toronto are beacons of inclusion and leaders should bring people together.
Ford and his family have faced criticism for their remarks about Pride in the past.
In 2014, when Ford was a city councillor, he described the parade as an event where "middle-aged men with pot bellies" run around "buck naked."
Also in 2014, photographers captured an LGBTQ protester being assaulted by a supporter of the Ford family at Ford Fest, an annual barbeque held at the home of the premier-designate's mother.
Protesters said they were demonstrating because Ford's brother Rob, then the mayor of Toronto, was homophobic. The mayor angered the community when he remained seated at city council during a standing ovation for the organizers of the World Pride festival that had been held in the city that year.