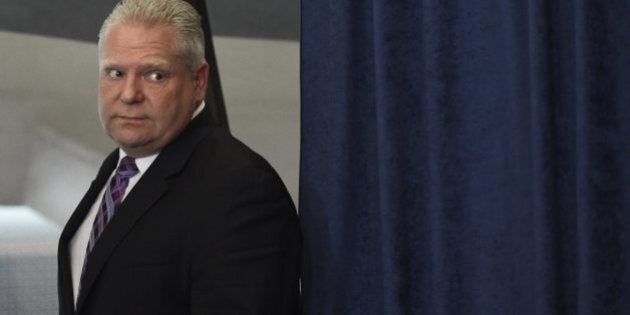 Toronto Councillor Doug Ford has accused the father of an autistic child of being part of a "jihad" against him and his brother.
On Thursday, city employee Tommy Lenathen filed a complaint with Toronto's integrity commissioner over controversial comments Doug Ford made in May about the Griffin Centre, a residential group home for disabled youth in his ward.
"My heart goes out to kids with autism. But no one told me they'd be leaving the house," he said.
Lenathen wants Doug Ford to resign his seat, apologize publicly to the Griffin Centre and take sensitivity training, The Toronto Sun reports.
Doug Ford also suggested to the Sun that he thinks the recent complaints against him and the mayor have been politically motivated.
Watchdog group Democracy Watch recently filed a complaint with the integrity commissioner, accusing the Ford brothers of "inside government lobbying."
"This is not normal in democracy," he said. "It is a full out jihad against us right now."
Doug Ford also reportedly accused CityTV reporter Cynthia Mulligan of a "jihadist attack" the day prior.
The councillor said that to Mulligan for "no apparent reason," wrote Toronto Star reporter Daniel Dale in a story published Friday.
Mulligan later took to Twitter to say the councillor apologized.
Lenathen sits on the executive board of Canadian Union of Public Employees Local 416, but told the Star that his complaint had nothing to do with his union. And, unsurprisingly, he didn't care much for what Doug Ford had to say about him.
"What is this about – 'jihad?' I'm a dad looking after the rights of my autistic son and all the other kids like him. 'Jihad'? I'm not a member of any terrorist organization," he said.
Lenathen called Doug Ford a "horse's ass" and "moron."
Mayoral candidate Olivia Chow also tweeted about the controversy on Friday.
And John Tory, who has called for Rob Ford to exit the race, said in a statement that Doug Ford's remarks about Lenathen were disgraceful.
"Using a loaded and inflammatory term like 'jihad' to describe legitimate criticism is pathetic and shows that the Fords just don't get it," Tory said in the statement.
"Further, Doug's careless use of the word racism in recent days reveals his ignorance of its true meaning and its impact on visible minority communities."
Earlier in the week, Doug Ford accused Toronto teacher Joe Killoran, now better known as the "shirtless jogger" who confronted the mayor on Canada Day, of being "racist" toward the mayor.
"It doesn't have to be about race. You can be a racist against people that eat little red apples. You can be a racist against people that have a drinking problem. You can be racist against people that are too fat," Doug Ford said. "So that's my answer to that."
But videos of the confrontation show Killoran wasn't challenging the mayor about drugs or booze. Instead, he was yelling for Ford to answer questions about racist and homophobic slurs he has made in the past and his controversial business dealings.
"Answer the questions. People have a million questions about your lying, your corruption," Killoran yelled. "You're a corrupt, lying, racist homophobe. Answer the people's questions!"
Toronto voters head to the polls on October 27.
Popular in the Community