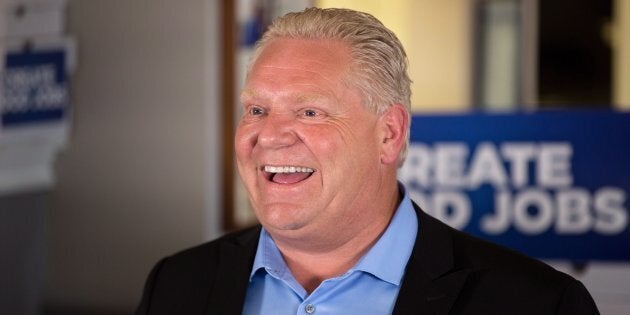 Doug Ford is promising that Ontarians will soon be able to buy a case of beer in their local corner store if Progressive Conservatives win government in June.
In an announcement timed to coincide with the start of a long weekend, Ford said Friday that PCs would expand points of sale for beer and wine in the province to box stores, corner stores, and more grocery stores.
"As we approach the Victoria Day Weekend, it is time to acknowledge that Ontario is mature enough for this change and ready [to] join other jurisdictions in making life a little more convenient," he said in a release.
"Consumers will soon be able to grab a bottle of wine in the same location where they get their groceries for an evening dinner with guests, or grab a case of beer around the corner from where they live, so they can entertain friends."
Stores would be regulated by the Alcohol and Gaming Commission of Ontario with the same "high standards" as the LCBO and Beer Store, Ford said in the release.
He said other provinces have already shown "you can expand points of sale in this way while rigorously enforcing the law."
But as with other promises unveiled by Ford so far on the campaign trail, the devil is in the details. Ford says he will "withdraw from the bad deal that the Wynne Liberals negotiated with foreign multinational beer corporations" that own the Brewers Retail, better known as The Beer Store.
Under a 10-year deal reached in 2015, The Beer Store retained the exclusive right to sell cases of 24 beers, while permitting six-packs to be sold in grocery stores.
In the last three years, Ontario Liberals moved to open up the sale of beer, cider, and wine in select grocery stores, with the goal of sales in 450 stores across the province. The government says more than 350 grocery stores are now selling beer and cider, including up to 70 that also sell wine.
In December 2015, Ontario Premier Kathleen Wynne was the first person in line to buy a six-pack of beer at a Loblaws grocery store in Toronto.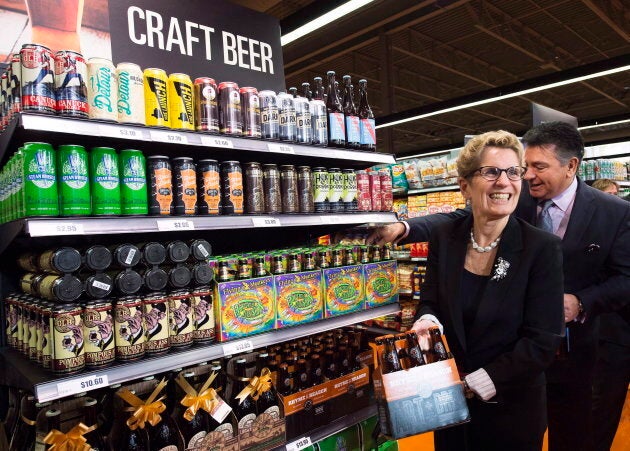 Liberals have also touted the change in campaign ads that show a woman singing Wynne's praises while walking through a field.
"Who's the premier who made it possible to buy beer and wine in the grocery store? Kathleen is," the woman says.
Most provinces sell alcohol through provincially owned liquor store outlets. In Quebec, beer and wine are available in grocery stores and corner stores. In Alberta, booze sales were privatized in 1993.
With files from The Canadian Press