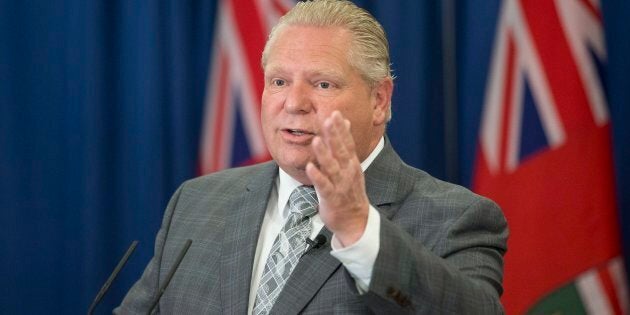 As he kicked off his bid to become Ontario's next premier, Ontario Progressive Conservative Leader Doug Ford did not take kindly to a reporter asking him to explain how a bill becomes a law in the province.
Speaking in Toronto Wednesday, Ford accused a reporter from the website QP Briefing of a "gotcha question."
Watch the clip from Global News:
The journalist, Chris Reynolds, prefaced his question by saying that he did not mean to be "impertinent," but suggested the question was fair because Ford is running to lead the province.
"I was hoping you could explain to the people of Ontario how a bill becomes a law, just step by step," Reynolds asked.
"You know something my friend, we can run through that," Ford said. "And I know this is a gotcha question and everything because that's your game, big smile on your face.
"But don't worry, I'm going to show you how many bills we're going to pass. We're going to pass endless bills down there and I hope you're down there to watch the bills get passed."
This is not the first time Ford has had a tense exchange with a journalist since winning the PC leadership in March. In an interview with CBC 's "Ottawa Morning" radio show that month, Ford clashed several times with host Robyn Bresnahan when she pressed for specifics on his plan for the province.
Last month, Ford's campaign announced they would not have a media bus following him on the campaign trail.
PCs have pointed out that Liberals used similar news-style campaign videos during the 2007 election.
The Legislative Assembly of Ontario has a 24-page guideline outlining how a bill becomes a law in the province, including information on the first, second, and third reading of legislation in the legislature, culminating in royal assent from the lieutenant-governor.
Polls suggest Ford's PCs have an early lead as the provincial election campaign kicks off. The PC leader spent one term on Toronto city council from 2010 to 2014, but does not hold a seat at Queen's Park.
Ontario voters head to the polls on June 7.
With a file from The Canadian Press
Popular in the Community