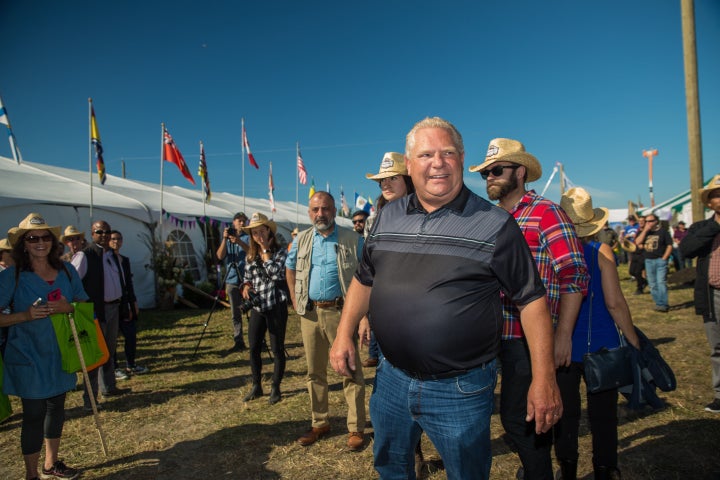 Premier Doug Ford blamed NDP MPPs for the boos that greeted him at an event in Verner, Ont. Tuesday.
"It just came from the NDP," he told reporters afterwards.
"This community, it didn't matter what political stripe you come from, were very hospitable to us. And it's a shame that the NDP and Andrea Horwath would bring that to this environment. It's absolutely uncalled for. I think everybody knows how much we love the farmers."
The premier said he "had words" with Horwath and NDP MPP Gilles Bisson. He called their caucus "absolutely classless."
Ford was greeted with both cheers and boos when he took the stage at the International Plowing Match and Rural Expo. The match is an annual celebration of rural living that draws provincial politicians from all parties. Leaders compete every year to see who can plow the straightest furrow.

Watch: Ford announces agriculture trade mission to Asia during Rural Expo.
Horwath said the boos came from people who are worried about Ford's policies.
"There are probably people that are concerned about the fact that the government in its budget cut $225 million from Rural Affairs .... Maybe people are worried about the cuts to public health that are going to impact communities that are in this riding and in this region. Maybe folks are worried about their access to health care in small rural and community hospitals," she said.
"I don't know why the premier thinks it has something to do with us, but that's definitely not the case."
A candidate for the Ontario Liberal leadership offered lunch to the person who sent him the best video of Ford being booed Tuesday.
"Share your pics/videos. Most interesting one gets you lunch on me next time I'm in your community!" Stephen Del Duca wrote on Twitter.
Laryssa Waler, Ford's executive director of communications, called the offer disgusting.
"I wish I was surprised by your posts. I'm not. But it's gross," she wrote.
Ford said Tuesday that his government is popular.
"I've always said I don't believe in polls, right? But you see the polls. The media refuses to report on the good ones. They report on the bad ones. But the truth of the matter is if the election was held today, we would win."
PCs still have the lead
One recent poll, released last Monday, suggests that the premier is right.
Thirty-two per cent of Ontarians said they would vote for Ford's Progressive Conservatives if an election were held tomorrow while 28 per cent said they'd vote Liberal, 27 per cent said they'd vote NDP and 11 per cent would choose the Green Party.
The Campaign Research poll was conducted online from Sept. 3 to Sept. 5 with 957 participants. A comparable sample size has an estimated margin of error of +/- 3.17 per cent, 19 times out of 20.
The number of Ontarians who approve of the job Ford is doing as premier is rising, the poll also found. Twenty-five per cent said they approve of Ford's performance, up from a low of 18 per cent in June.
This story has been updated with comment from Ontario NDP Leader Andrea Horwath.