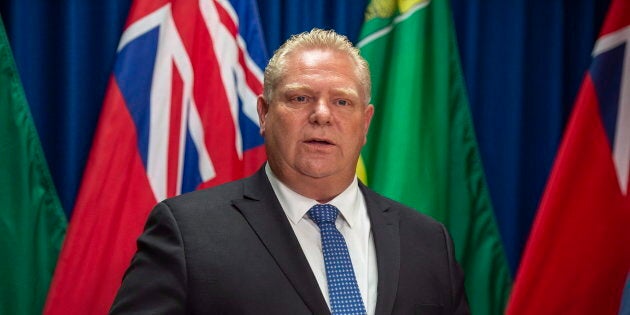 A pillar of the Ontario campaign of Doug Ford had been to remove the "carbon tax," as he stated during an election debate on May 27: "'I actually believe in man-made global warming," he said. "But what I don't believe in, my friends, is putting an artificial tax called a carbon tax, cap and trade, that does absolutely nothing to help the environment.'"
While his spin appealed to his supporters, putting a price on carbon, such as a carbon tax, is a popular market-based mechanism to address climate change. During his many rants about the carbon tax, Mr. Ford never mentioned the return of such investments: reduced carbon emissions to fight climate change. As Prime Minister Trudeau stated: "It's unfortunate to see that there are still politicians, Conservative politicians specifically across the country, who still think pollution should be free."
True to his word, Doug Ford quickly acted on the "carbon tax" and scrapped the entire Green Energy Act. Not stopping there, Ford continued his carbon-tax crusade and launched a legal challenge against the federal government over the carbon-tax provisions.
Ford's carbon-tax phobia knows no bounds. His latest antics are a series of campaign stops in the Prairies. As a resident of Ontario, I find the premier gallivanting across the country at the expense of Ontario taxpayers offensive. Is there any precedence in Canadian history for a sitting provincial premier to actively participate in campaign events in another province?
Watch: Jason Kenney And Doug Ford Ramp Up Bromance At Rally
Ford's first campaign stop was in Saskatchewan, where he stated: "I can ask for no better partner and no better friend than Scott Moe," The political bromance was under way. During the Saskatchewan visit, Brian Pallister of Manitoba flipped, supporting his Prairie brethren by also opposing the carbon tax. The move by Manitoba was unexpected, as only a few months earlier when Ford had tweeted that Pallister was against the carbon tax, the Manitoba premier denied it.
Then, in Alberta, another bromance took shape. As this blog was written, the website of the United Conservative Party of Alberta opens with a picture of Jason Kenney and Doug Ford in a warm embrace. Kenney had invited Ford to attend the "Scrap the Carbon Tax Rally" in Calgary. At the rally, Ford used his favourite phrase about the carbon tax: "the worst tax ever."
Doug Ford has a monster under his bed called the "carbon tax." The premier passionately tweeted: "No family should have to choose between heating and eating." Other favourite phrases are that a carbon tax is (taken from @fordnation tweets) a "job-killer" and "unfair tax on families and businesses;" the imaginary menace will destroy Canada: "The carbon tax is the absolute worst tax for Canadian families, Canadian businesses, and the Canadian economy. It does nothing for the environment, but instead takes money out of the pockets of hard-working people to fuel out-of-control government spending." Are any of these scary claims true?
In fact, the fear-mongering over the evil carbon tax is quite perplexing, as this monster is nothing but the teddy bear of levies. Using Ford's own figures, the scrapping of the carbon tax in Ontario would save an average family $80 per year in natural gas and $260 per year on gas prices; in other words, the average savings is a $1 per day (not even per person but per family). Besides the low direct costs, the federal government made this teddy bear of a levy even a bit more cuddly: "Provinces and territories without a plan in place by January will have a carbon tax imposed on them, with the feds pledging to return revenues to taxpayers in those jurisdictions."
While it has a catchy ring to it, declaring one-dollar-a-day per family the "worst tax ever" that forces families "to choose between heating and eating," is just a monster under the bed. But as the adage goes: "never let the truth stand in the way of good story."
Have you been affected personally by this or another issue? Share your story on HuffPost Canada blogs. We feature the best of Canadian opinion and perspectives. Find out how to contribute here.