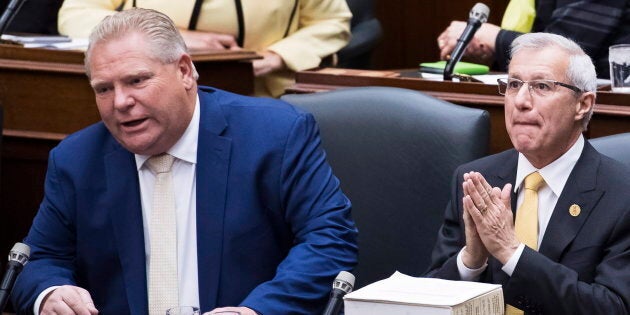 Ontario Premier Doug Ford appears to be off to a slow start on his campaign promise to find $6 billion in so-called "efficiencies."
His government's first major economic plan cuts $3.2 billion in spending, but also forgoes $2.7 billion in revenue by lowering taxes and scrapping the price on pollution. All told, the deficit will only be $500 million lower than it was before.
Finance Minister Vic Fedeli tabled the Fall Economic Statement at Queen's Park on Thursday.
"The fiscal hole is deep ... Everyone in Ontario will be required to make sacrifices, without exception," Fedeli writes in the statement.
Everyone in Ontario will be required to make sacrifices, without exception.Vic Fedeli
The government will eliminate three independent officers of the legislature: the environmental commissioner, the independent children's advocate and the French language services commissioner. Their responsibilities will be absorbed by the ombudsman's office or the auditor general, the government said.
Representatives from the Ministry of Finance would not say whether the staffers who work in these offices will be terminated or offered work elsewhere. During the election campaign, Ford promised his "efficiencies" would not cost any public servants their jobs (though he promptly fired the province's first chief scientist in the summer).
All new spending announced by the Liberal government in March — including $2.2 billion for universal child care, $242 million for shelter spaces and counselling for people fleeing violence, $800 million over two years to reimburse drug and dental costs for the uninsured — is cancelled.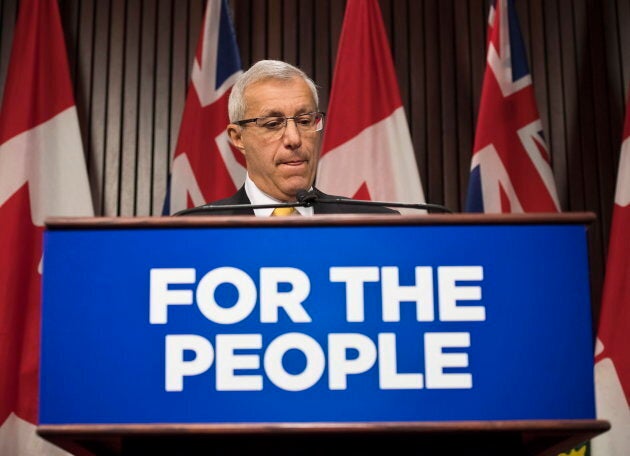 Also axed are a planned French-language university and a proposed surtax on high-earners that would have generated $275 million.
Though Fedeli's document generally focuses on changes that have already been announced, it introduces a few new ideas.
Changes to alcohol sales, cash-for-access
One of the new changes is that LCBOs and Beer Stores will be allowed to stay open until 11 p.m. every day of the week.
Changes are also being made to election finance rules. The Progressive Conservatives will let MPPs and party leaders attend cash-for-access fundraisers, and raise the maximum donation limit from $1,200 to $1,600.
The law also eliminates rent control for new units, which the government says will encourage developers to build more projects.
The fiscal update also promises to eliminate income tax for those earning less than $30,000 a year. The government claims the tax cut offsets its decision to scrap a planned increase of the province's minimum wage that was set to take effect next year.
Critics, however, have said raising the minimum wage to $15 an hour as the Liberals had planned would give low-income workers more money than the income tax cut would save. An independent financial analysis came to a similar conclusion.
The tax cut is expected to cost the province $495 million in lost revenue, the document says.
Ontario's total debt stands at $347 billion. Every year, the province spends $12.5 billion just to pay the interest on debt. It's the fourth-largest expenditure after spending on health, education and children and social services.
With files from The Canadian Press
Watch Backbenchers Ep: 3: Are We Headed To A Federal Ford Fiesta?
Popular in the Community