Doug Ford, leader of the Progressive Conservative Party of Ontario, is running a campaign based on trust to be premier.
Trust him to kill the carbon tax, even though he shouldn't.
Despite running to lead the province, he consistently refuses to cost out his expensive campaign promises of tax cuts, while improving health care and transit. Trust him, in other words.
Ford asks for a lot of trust by voters, yet he's failed to deliver a reason why it should be given.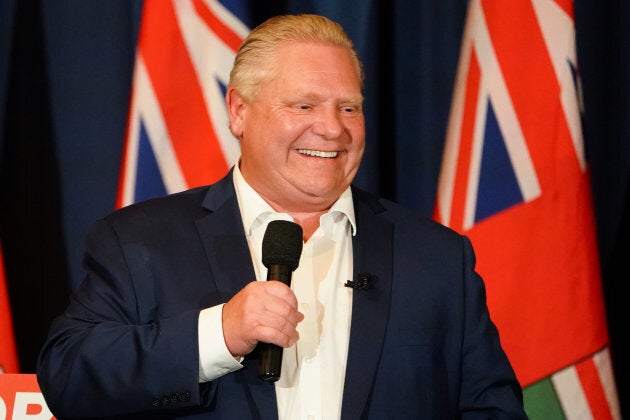 Certainly we should be able to trust our politicians. Ford, however, has shown that we can't trust him or his party, and he doesn't have the experience to back his record.
The data breach of the confidential information of 60,000 users of Highway 407 by one of Ford's candidates is a massive betrayal of trust that can't be just swept away by Ford accepting the candidate's withdrawal from the election.
Radio station Newstalk 1010 quoted sources saying that two dozen candidates paid for access to the breached data, which they used to create fake identities for students that they then paid to attend nomination meetings to vote for them.
The National Post also reported on the 1010 findings, and The Globe and Mail reported on a Hamilton nomination meeting where "a printer was secretly churning out fake identity papers."
There's a data breach, a printer making fake IDs right at nomination meetings, which are then used to elect a candidate who may have paid for the votes.
Under Ford's leadership, it's clear that rules don't matter and truth is irrelevant
Put another way: data theft, identity theft and ballot box stuffing. In what world are we supposed to trust a party where this happens, or the leader of said party?
Ford can claim he didn't know about any of this, despite months of him and his predecessor Vic Fedeli talking about rot in their own party and questionable nominations, but the fact is that Ford leads a party in which candidates apparently thought this sort of thing was OK.
To be honest, I'm not really surprised.
When Ford was a city councillor in Toronto, when his brother Rob was mayor, Ford denied his brother's drug use, and is now claiming he had no idea at the time.
Ford has also said that he and his brother saved Toronto taxpayers $1 billion, but it's not true. The fact is, when you look at the city of Toronto's actual budget, spending went up $219 million per year under the Fords.
More from Jerry Dias:

Doug Ford's Fake News Factory Leaves All Ontarians Worse Off

Press Freedom Is Under Attack, From Violence To Corporate Influence

It's Time To Pause And Mourn For Workers Killed On The Job
When anyone challenged the brothers on their actions, Doug came out swinging. Rob Ford's own chief of staff, Mark Towhey, wrote in his book "Mayor Rob Ford: Uncontrollable" that "Doug is a physical bully. He can be quick to anger, and, when opposed, puffs himself up and attempts direct intimidation—threatening physical violence, or some form of retribution or retaliation."
Given that track record of lying and bullying, it's hardly surprising that his slate of candidates would think they could get away with anything under his leadership. Under Ford's leadership, it's clear that rules don't matter and truth is irrelevant.
But this is no way to govern the province of Ontario. Ford's actions are a reflection that he is not fit for the job and lacks real experience in governance, financial decision making and upholding the public good.
With just days to go before Ontario voters can begin casting their ballot at the advance polls, there are just too many ethical questions hanging over Ford and the Conservatives to trust them with leading the provincial government.