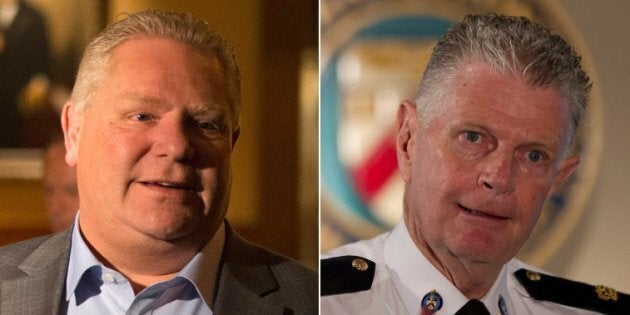 TORONTO—Ontario Premier Doug Ford denies using his influence to help a family friend get the top job with the Ontario Provincial Police (OPP).
"If Ron Taverner wasn't qualified, he wouldn't be there," Ford said at a press conference Tuesday. "I could go on and on and on about his accolades."
The premier says Taverner was chosen at the recommendation of an independent recruiting panel, but he admits he was at the table when cabinet signed an order to finalize the appointment.
"I have final sign-off on everything in this province," Ford said.
The NDP will also be asking for an investigation, spokesperson Steve Piazza told HuffPost Canada.
Democracy Watch says that Ford should be removed from office if it's found that he was part of the appointment.
"If you determine that Premier Ford participated in any way ... you should recommend that the penalty be that Premier Ford's seat be declared vacant," its letter says.
MPPs forbidden from furthering their own interests
By law, MPPs are not allowed to make decisions that further their own interest or another person's interest.
Democracy Watch co-founder Duff Conacher says that Ford may have done both.
"Having a friend as the head of the OPP can provide him protection, given the OPP enforces several laws that apply to cabinet ministers and the premier," he told HuffPost.
Critics have been raising questions about Taverner's appointment since it was announced on Friday.
Job description changed
He did not meet the requirements of the OPP job when it was first posted, iPolitics reported Monday, because his rank was too low. But the job description changed two days later.
Community Safety Minister Sylvia Jones said the requirements were changed so that more people would apply.
"We wanted to make sure that the best person to head the OPP was going to apply," she said in question period Tuesday, prompting laughs from the NDP.
The initial press release announcing Taverner's appointment said he was chosen on the recommendation of a selection committee, supported by the Odgers Berndtson recruiting company.
Ford also said that one of the people on the committee was Taverner's former boss, Mario Di Tommaso.