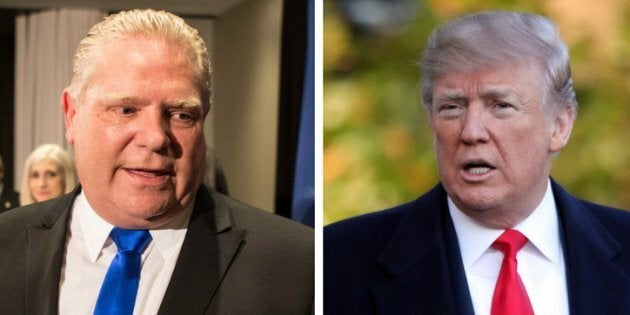 A political outsider rails against the "establishment," promises to "clean up" the mess of legislature and then, after hours of delays and confusion, wins.
The similarities between Doug Ford's Ontario PC leadership victory and U.S. President Donald Trump's defeat of Hillary Clinton are almost uncanny. And the comparisons between Ford and Trump are irresistible.
Ford narrowly won leadership of Ontario's conservatives on Saturday. The race was close, and results were delayed so long the party had to pack up its convention and send members home.
Hours before the result was announced, a Toronto Star reporter tweeted that a senior Tory was calling it a Hillary Clinton-Donald Trump situation.
Ford had won the most riding points, but his main rival Christine Elliott had won more votes. On Sunday, Elliott said in a statement that there were "serious irregularities" in the results and promised to investigate.
Federal Conservatives offered Ford their congratulations on Sunday, even though he did not receive endorsements from any Members of Parliament during his campaign.
"Looking forward to working together on conservative solutions to the challenges facing Ontarians," federal Conservative leader Andrew Scheer said.
Former prime minister Stephen Harper said he hoped conservatives would "work together in Ontario to form government this June."
Other Canadians appeared incredulous that Ontario's own brash populist could actually become premier.
"I don't want to wake up on june 8th and read that 53% of ontario's white women voted for doug ford," wrote prominent activist and journalist Desmond Cole on Twitter.
"Doug Ford and Donald Trump walk into a bar to discuss NAFTA..." wrote journalist Robyn Doolitte.
"On a night the country sets clocks back an hour the [Ontario PC] party chose to set them back 50 years by electing Doug Ford," one observer wrote. "Underestimate Doug Ford at your peril," another said.
Others poked fun at the idea that Trump would never be popular in Canada.
Like Trump, Ford is a businessman who is fairly new to politics. The only political office he's held previously is one term as a Toronto city councillor. Ford campaigned for the PC leadership with a promise to oppose Prime Minister Justin Trudeau's carbon tax and "clean up this mess" in Queen's Park.
University of Waterloo professor Emmett MacFarlane wrote that he was getting a lot of backlash for comparing Ford to Trump because Ford hasn't taken an anti-immigrant position or said blatantly racist and sexist things.
"The comparison works at both a broad level," he said. "This is a man who is patently unqualified for public office and who seeks to breed an anti-intellectual, anti-evidence cynicism into our politics."
Ford faces Liberal Premier Kathleen Wynne and NDP Leader Andrea Horwath in a provincial election in June. The last-minute leadership race was held because former PC leader Patrick Brown resigned after allegations of sexual harassment and sexual assault. Brown denies the allegations.
More from HuffPost Canada: