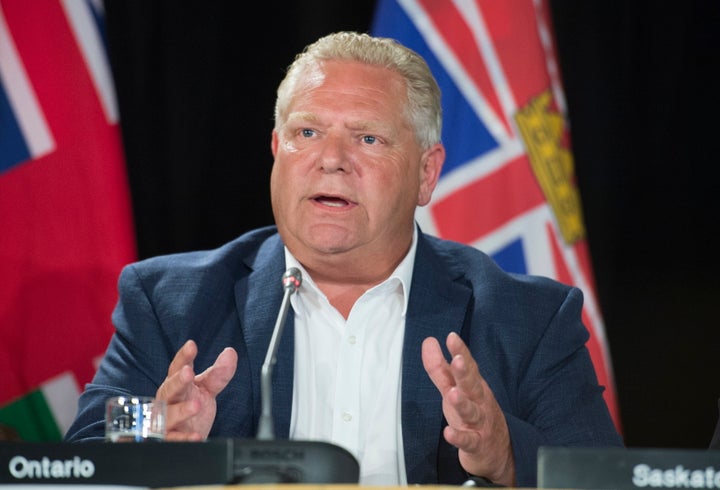 TORONTO — Fifty-seven per cent of Ontario voters believe Premier Doug Ford's government is corrupt and 63 per cent say it has given too many jobs to Ford's "cronies," according to a new poll.
"It is clear the perception of nepotism in the Ford government has not abated; Dean French's resignation didn't put it to bed," Corbett Communications founder John Corbett said in a press release about the findings.
French, Ford's chief of staff, resigned on June 21. Earlier that day, the premier revoked two appointments after allegations of favouritism surfaced. Tyler Albrecht, a 26-year-old who played lacrosse with French's son, had been given a $165,000-a-year job for the Ontario government in New York City and Taylor Shields, a cousin of French's wife, was given a $185,000-a-year job in London.
Voters are rejecting other aspects of Ford's government, too, Corbett said.
Seventy-four per cent said they agree that "human caused catastrophic climate change" is occurring and 69 per cent said Ford's $30-million fund to fight the federal government's carbon tax is a waste.
Sixty per cent said Ford's Ontario policies will make them less likely to vote Conservative in the upcoming federal election, including 18 per cent of those who voted Conservative federally in 2015.
"... you have the makings of a perfect storm of voter rejection."
"Ford's policies continue to be a serious problem for Andrew Scheer's federal Conservatives," Corbett said.
"You can add to that the fact the premier's anti-carbon tax message, the heart of his platform, is falling flat, and you have the makings of a perfect storm of voter rejection."
Corbett Communications polled 936 Ontario residents online on July 9 and 10. The margin of error for a similar sample is plus or minus 3 per cent, 19 times out of 20.