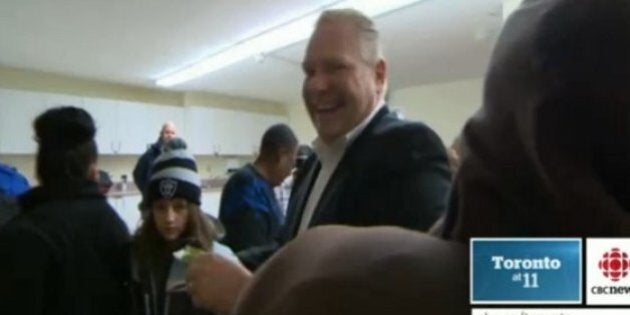 The footage was captured by CBC News and stirred discussion online Thursday after a tweet from Councillor Gord Perks, a prominent critic of the Ford brothers.
Story continues below video
Councillor Ford distributed the money on the same night as a heavily-publicized Christmas party at his mother's home. The Fords invited every member of council to the shindig, but only two (other than Doug Ford) actually showed up, according to the National Post.
Users on Twitter were quick to accuse Doug Ford of buying votes. You can read some of the most scathing tweets in the slideshow below.
Story continues below slideshow
"There's no difference in going to Tim Horton's, waiting in line and getting gift certificates," he told The Globe and Mail. "I didn't have time. I went and bought toys for kids. The parents were standing there, so I gave them $20 to go buy themselves a coffee."
This isn't the first time the outspoken councillor has faced accusations trading cash for political support. Earlier this month, the Toronto Star published a story about how Councillor Ford has personally donated money to improve city parks.
Councillor Sarah Doucette told the Star the behaviour could be seen as "buying votes," though she stressed the money is going to a "very worthy cause."
Whether Councillor Ford can really be engaged in vote buying when he has repeatedly said he will not run for re-election to city council is up for discussion. He reiterated his intention not to run to the Globe Thursday and said it is his choice how he spends his money.
Councillor Ford has expressed interest in the past about running for office at the provincial level, but his brother's scandalous behaviour of late may have made such a campaign less likely.
Regardless, Councillor Ford is so closely tied to Mayor Ford that some may see the former's actions as an extension of the latter's re-election campaign.
Do you think Doug Ford's behaviour crosses a line or is he just spreading some Christmas spirit? Share your thoughts in the comments.
Popular in the Community