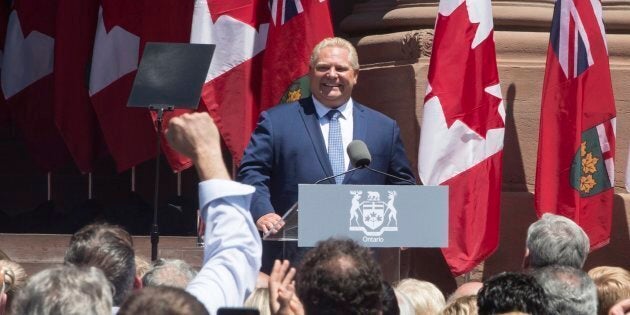 The decision of new Ontario Premier Doug Ford not to dedicate a cabinet minister solely to Indigenous issues is "highly problematic," the former regional chief for the province says.
"It's going to almost be, immediately, the first bad move made by the Ford government," Isadore Day told HuffPost Canada Friday.
Ford tapped Greg Rickford, a former federal natural resources minister elected in the northern riding of Kenora-Rainy River, to serve as both minister of energy, northern development and mines, as well as minister of Indigenous affairs.
Past Liberal governments created the first separate ministry of Aboriginal Affairs in 2008 and renamed it eight years later. In response to a key recommendation of the 2007 Ipperwash inquiry report, a minister was kept solely in charge of the ministry.
The Ipperwash inquiry was a judicial probe into the 1995 death of Dudley George, an Indigenous protester shot and killed by an Ontario Provincial Police officer in the Ipperwash provincial park. The inquiry found that the then-PC government of Mike Harris, Ottawa, and the OPP all bore responsibility for the events leading to George's death.
The creation of a stand-alone ministry of Aboriginal Affairs was one of 100 recommendations to better improve relations between the Ontario government and First Nations, Inuit and Métis people.
Day told HuffPost such a level of focus is needed because of the "immensity of First Nations issues" across Ontario.
"This certainly is not going to bode well for one minister who now has a number of other duties. How much can that individual spread himself in that situation?" he said. "Obviously it's going to be a daunting task."
And despite Rickford's skills and experience, Day also believes having a minister in charge of both energy projects and Indigenous issues could be a recipe for disaster.
"He's going to be dealing with the conflicting policy issues with regards to water, rocks, trees, and energy and having to work to represent First Nations issues across Ontario," Day said.
"Obviously there is not a lot of thought put into the conflict... and the potential bias that will definitely be thrown onto the table."
Day also takes exception that the term "reconciliation" has been dropped from the job description, calling it a "sad day" and the culmination of concerns he had when the previous Liberal government rebranded the ministry in 2016.
"When this now becomes something the next government may cast aside, what does that say for our respect and recognition of Indian residential school survivors?" Day said.
"There's going to need to be some explanation, some reassurance, and some heavy lifting to sort this one out. We now have a government that, first of all, does not know a whole lot about Indigenous issues and has basically just cast aside the whole issue of legacy and healing around residential schools."
RoseAnne Archibald, who unseated Day as regional chief Wednesday, released a statement saying she looks forward to working with Ford's government on behalf of 133 chiefs in Ontario.
"I am disappointed that there is no longer a Minister of Indigenous Relations and Reconciliation. However, I am heartened by the fact that Greg Rickford will include the portfolio in his other responsibilities," she said in the statement.
"As the MPP for Kenora—Rainy River, Minister Rickford is by far the best choice to work with our Peoples. He has worked as a nurse and lawyer in our communities and has a deep knowledge and understanding of our Peoples and the issues."
New NDP MPP Sol Mamakwa, a member of the Kingfisher Lake First Nation who will represent the northern riding of Kiiwetinoong, also voiced his displeasure on Twitter Friday, but said he was hopeful Rickford would make time for Indigenous issues.
Mamakwa released a statement earlier this week touting the progress MIRR has made, including resolving land claims and improving First Nations relations with the province. He also highlighted the challenges facing Indigenous communities in Ontario, including boil water advisories, education, and "epidemic levels" of youth suicide.
Several ministers in Ford's trimmed-down cabinet of 21 are serving double duty, including his former Ontario Progressive Conservative leadership rivals Caroline Mulroney and Christine Elliott. Mulroney was tapped to serve as attorney general and minister responsible for Francophone affairs, while Elliott will serve as minister of health and long-term care and deputy premier, though the latter role is often seen as mostly symbolic.
Ford himself will serve as both premier and minister of intergovernmental affairs.
But other ministers are tasked with just one portfolio including Infrastructure Minister Monte McNaughton, Labour Minister Laurie Scott, Education Minister Lisa Thompson, and Transportation Minister John Yakabuski.
With files from The Canadian Press
Popular in the Community