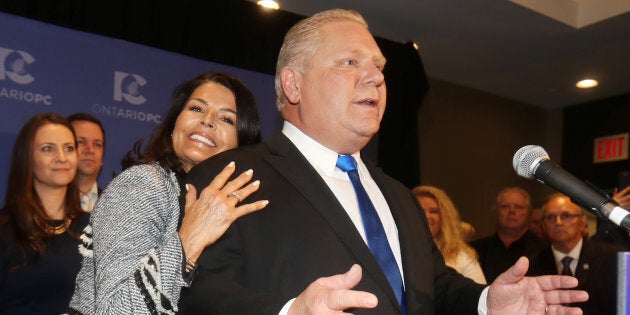 Doug Ford may have a combative reputation, but the new leader of the Ontario Progressive Conservatives is kicking off a charm offensive by praising the premier he wants to replace.
Ford made the media rounds Monday, calling into several radio shows and sitting down with Toronto's CP24, where he was asked about a phone call he had earlier that day with Ontario Premier Kathleen Wynne.
"I want to go on record. I've said it over and over and over again. Kathleen Wynne's a very bright person," Ford said. "She's an incredible campaigner, she's a phenomenal debater. And I told her I have the utmost respect for her."
Ford, who won the PC leadership Saturday, said that while he has a different "vision" for the province, Wynne is not to be underestimated.
"Then again, she's never been in the ring with Doug Ford. So, there you go."
Watch the interview below:
Ford delivered much the same message in a later interview with The Andrew Lawton Show on 980 CFPL in London, Ont., discussing the June provincial election.
"Liberals will do anything to hold on to power," Ford said. "Make no mistake about it, Kathleen Wynne is a great campaigner, good debater, and I just can't wait to get into the ring with her."
Wynne, meanwhile, is cautioning that Ontario voters face a "stark" choice between her party and the PCs this spring, evidently ignoring Andrea Horwath's New Democrats.
"Mr. Ford and I disagree on a lot of things and there will be a stark choice in June,'' she said. "I think what we are putting forward as a platform is very, very different than what any of the Conservatives were putting forward, which is cutting and removing supports from people.''
However, Wynne also told reporters that her party is focused on who it is fighting for, not against.
Ford is perhaps best known as a one-term Toronto city councillor who voraciously defended his scandal-ridden brother, late Toronto mayor Rob Ford. At times, that meant he took shots at the Wynne government in Queen's Park.
In 2013, he publicly accused Wynne of having something to do with his brother losing a volunteer position coaching high school football — accusations the premier's office denied.
Ford told The Toronto Sun at the time that he didn't have "any respect for Kathleen Wynne because she's an unelected premier." Wynne replaced Dalton McGuinty as premier after winning the 2013 Ontario Liberal leadership race.
After Ford lost the 2014 Toronto mayoral race to John Tory, Wynne responded with a "Hallelujah!"
Recent polls suggest that while the PCs are sitting in a good position to win this spring, Ford has his work cut out for him. An Angus Reid Institute survey released Thursday found that while Ford is popular with the party base, nearly half of voters who would consider voting PC would be less likely to do so with him as leader.
Ford's apparent strategy of saying something nice about his chief opponent is reminiscent of one used by Patrick Brown shortly after he became PC leader in 2015.
Brown released an ad in which he criticized the Wynne government's move to sell off part of Hydro One, the provincial electricity provider, but also said he liked the premier.
"It may surprise you to hear me say this, I think Kathleen Wynne is a good person," Brown said in the ad.
Ontario voters head to the polls on June 7.
With files from The Canadian Press