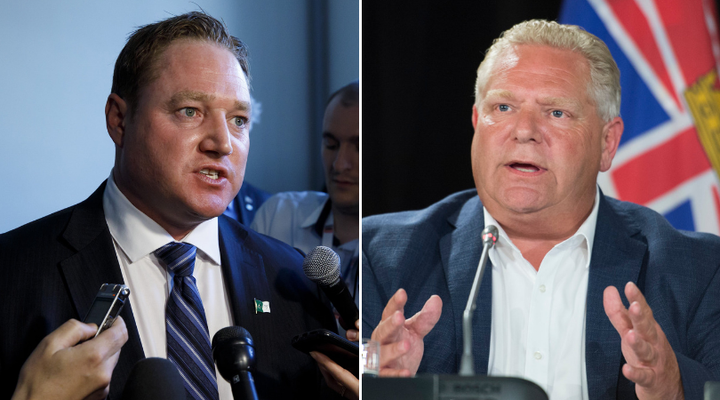 TORONTO — An Opposition MPP is slamming Ontario Premier Doug Ford's comments about a mentally ill patient as "derogatory" and unhelpful.
Thursday morning, Ford called into a Toronto talk radio show to talk about Zhebin Cong, a patient at the city's Centre for Addiction and Mental Health (CAMH) who was found not criminally responsible for the 2014 murder of his roommate.
'Crazy, crazy people'
Ford called the man a "nutcase" and said his government has to make changes so that "crazy" people aren't on the street.
"This is what we have to change, Jerry, right across the board, making sure these crazy, crazy people that want to go around chopping people up, they're out on the street," he said to host Jerry Agar.
"Letting this guy loose? You gotta be kidding me … There's gonna be people held accountable. You can't let guys like this loose. You throw away the key."
Listen to the premier's comments here:
NDP MPP Taras Natyshak told reporters that the premier should change his priorities.
"We need to ensure the safety of the public first and foremost … that should be the paramount concern of the premier. Not to stigmatize every person that has ever had an issue with mental illness by calling them crazy, crazy, crazy," Natyshak said.
"That's not an approach that I think the general public want to see from their premier. It's an approach that I think Doug relies on when he's at a loss for any true policies around dealing with these issues."
"That's not an approach that I think the general public want to see from their premier."
People with mental health issues are no more likely than the general public to act violently, according to the Canadian Mental Health Association. Misconceptions around mental health and violence contribute to the stigma and discrimination that people with mental health challenges face, the association says.
A spokeswoman for Ford did not address HuffPost Canada's questions about the premier's use of the terms "crazy" and "nutcase" to describe someone with a severe mental illness.
"The situation around the Zhebin Cong case is disturbing and outrageous. The fact is, a person who murdered someone using a meat cleaver was deemed low-risk to the public and was out on the street for two weeks without the public knowing. Furthermore, he was allowed to get on a plane with law-abiding citizens and fly out of Canada and escape," spokeswoman Ivana Yelich said in a statement by email.
"The federal government has some explaining to do. How could this person have been allowed to get on a plane with the public and leave the country?"
With files from The Canadian Press