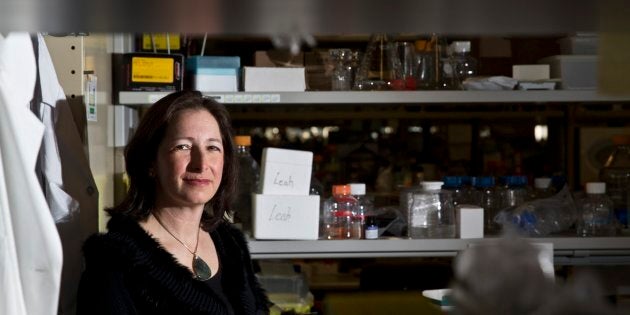 New Ontario Premier Doug Ford has fired the province's first chief scientist.
Dr. Molly Shoichet, a renowned biomedical engineer who teaches at the University of Toronto, was appointed in November to advise the government and ensure science and research were at the forefront of decision-making.
Shoichet told HuffPost Canada in an email that the she does not believe the decision was about her, and "I don't even know whether it was about this role." She said she is disappointed but honoured to have served Ontarians, even for a short time.
"We need to build our culture of science in Ontario," she said. "The best jobs, which Premier Ford said he wants to create, are in the tech and biotech sectors. These are rooted in science.
"I am hopeful that the Premier understands that our prosperity is rooted in science."
Ford's spokesman, Simon Jefferies told The Canadian Press Wednesday that the government is starting the process of "finding a suitable and qualified replacement."
The move comes just days after Ford's Progressive Conservatives officially took power in Canada's largest province with a majority government.
Ford pledged throughout the spring campaign to find billions of dollars in "efficiencies" in provincial spending, without cutting jobs. He did not reveal a costed platform explaining in detail how he would pay for his promises.
Ford has already put the public service under a hiring freeze, except for frontline staff such as police. This week, he froze the wages of managers in the civil service and ordered a review of executive and management compensation.
Though Ontario already has an auditor general, Ford pledged to bring in an outside auditor to review spending, line by line, to curb waste.
Veteran NDP MPP Peter Tabuns blasted the decision to remove Shoichet as a "big step backwards."
"The people of Ontario deserve to know why this decision was made and why it was done in secret," Tabuns said in a statement to media. "Ontario families deserve to know what Doug Ford will cut next."
Shoichet holds a Canada Research Chair in tissue engineering and, according to her biography, has published more than 575 papers, patents and abstracts. She was also named to the Order of Ontario in 2011.
When she was appointed last fall, the Ontario government said she would "make government smarter and more effective."
With files from The Canadian Press
Popular in the Community