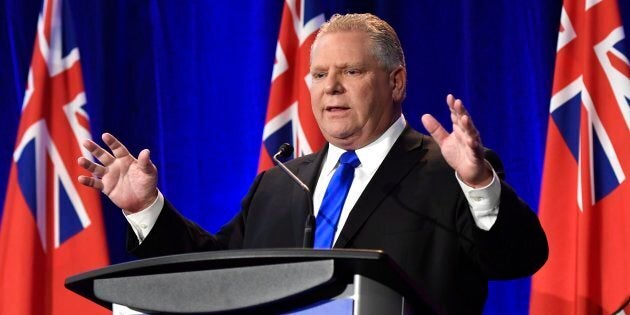 OTTAWA — Doug Ford isn't known for being speechless, but he found himself briefly at a loss of words on Wednesday during the Ontario PC leadership debate on the topic of #MeToo.
The former Toronto city councillor responded first to a question asking candidates what they would do to ensure sexual harassment has no place in politics.
Ford was succinct, saying it's a "totally unacceptable" problem that affects both women and men. No one should abuse their power, he repeated multiple times, adding there are rules in place to avoid such incidents.
"It's very simple," he said. "You gotta start respecting each other."
After that, moderator and HuffPost Canada's Ottawa bureau chief Althia Raj made a reference to the Australian prime minister's recent decision to ban ministers from having sex with their staff.
The story, which happened weeks earlier, was apparently news to Ford, who replied, "Are you serious?"
Ford then explained that there are certain cases where it would be OK for staffers to date each other.
"If they want to date someone in Queen's Park as a whole and there's 2,000 people — that's understandable. But dating someone, your own staff? Huh," Ford said, before finding his words again.
"Whatever. You gotta be kidding me."
The other three leadership candidates: Tanya Granic Allen, Caroline Mulroney, and Christine Elliott each had more to say on the topic.
Mulroney said the recent wave of sexual harassment allegations against politicians doesn't surprise her, adding that policies need to be in place for staffers to come forward.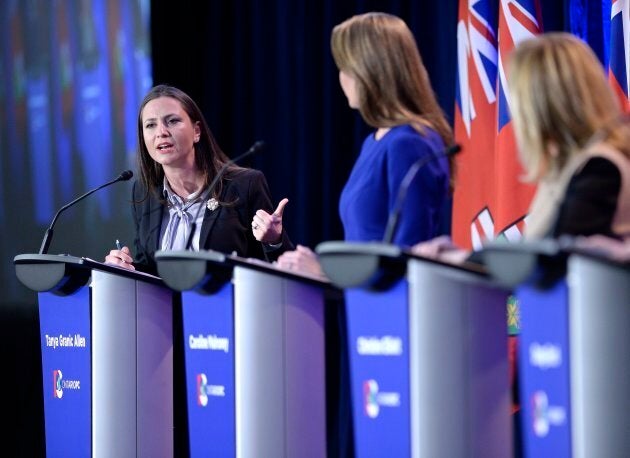 There needs to be zero tolerance for sexual harassment in and outside of politics, Elliott said. She agreed with Ford that people have to toe the line.
"You have to have the rules, and you have to make sure people follow them too," she said.
Granic Allen used the topic to attack the party's former leader Patrick Brown — who stepped down in January over allegations of sexual misconduct, only to re-enter the race a week later, only to quit again on Monday.
"If you want to deal with sexual harassment, then you've got to tackle the climate," Granic Allen said. "And that climate of doing what I want, how I want, when I want — it was a pervasive mentality in Queen's Park with Patrick Brown and his team and we have to address that."