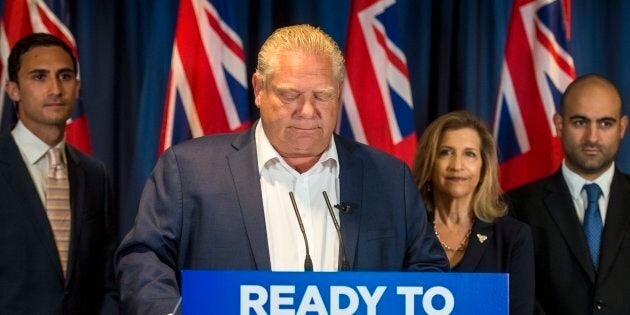 An ugly family feud has forced the Ontario Progressive Conservative leader to face questions about his personal finances and treatment of his brother's widow and children.
Doug Ford spoke to reporters in Toronto Tuesday about a multi-million dollar lawsuit filed by Renata Ford, widow of the late Rob Ford, that potentially strikes at the PC leader's persona as a successful businessman and devoted family man.
Renata Ford is alleging Doug Ford and his brother Randy — the trustees of her husband's estate since his death in 2016 — have deprived her kids, Stephanie and Douglas, out of millions of dollars. She is seeking damages in excess of $15 million. The allegations have not yet been tested in court.
According to a statement of claim, Doug and Randy Ford are being accused of breach of trust and "negligent mismanagement" of the family business, Deco Companies. It alleges that both brothers paid themselves extravagant salaries and perks while destroying the value of the company.
After the story broke Monday in The Toronto Sun and Toronto Star, the PCs released a statement from Ford denying the allegations. The party also issued a statement from Diane Ford, mother of the brothers and grandmother to Renata's kids, saying Renata "has serious struggles with addiction."
Ford told reporters Tuesday he was "floored" by what has happened.
"This is tragic for Stephanie and Dougie," he said of his young niece and nephew. "Our family has always stood behind the kids, always stood behind Renata. And we never wavered. We're shocked. That's what it comes down to."
The Ontario Tory leader said that with just days to go before voters head to the polls, he would leave it to Ontarians to decide "the motive" behind the move. He committed that he will always be there for his niece and nephew, including their "financial future."
Ford, who has pitched that he will run the province like a business and find "efficiencies" in government spending, repeatedly said the claims in the lawsuit are "false and without merit," and will be proven so in court.
He balked at the idea of releasing audited financial statements from Deco to set the record straight, but said he is proud of the business. He ducked two questions about how much he is making from the company.
"This isn't about Deco. This is about two kids. And, honestly, it's heartbreaking that Renata's taken this road."
A reporter also pressed him on the party's decision to "out" his sister-in-law as an addict, given his persona as a family man.
Ford charged that his sister-in-law's lawyers had told him to "pay up" or they would go public with the accusations. He again claimed to have taken care of his sister-in-law for the last 15 years.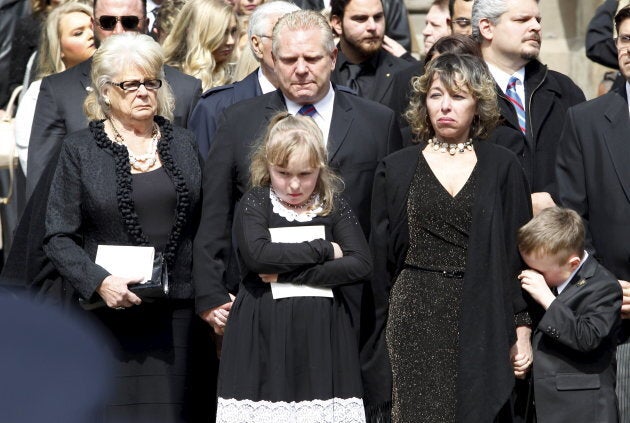 "I have bent over backwards, broken down brick walls to take care of Renata," he said. "Where this is coming from, you're going to have to ask her."
Ford's rivals have suggested the lawsuit calls into question the PC leader's track record in private life. Though he served one term on Toronto city council, Ford has never held a seat at Queen's Park and brands himself as an anti-politician.
"If he can't run his own business properly, how can he be trusted to run the province? And if this is how Doug Ford treats his own brother's family, how will he treat everyone else's families?" the Ontario NDP asked in a media release Tuesday.
Liberal Leader Kathleen Wynne tweeted that the lawsuit is both sad and distressing.
"It's sad because it draws in family. It's distressing because this is the kind of thing we will get daily from Doug Ford as premier. Chaos and confusion."
Ontario voters head to the polls on Thursday.
With files from The Canadian Press