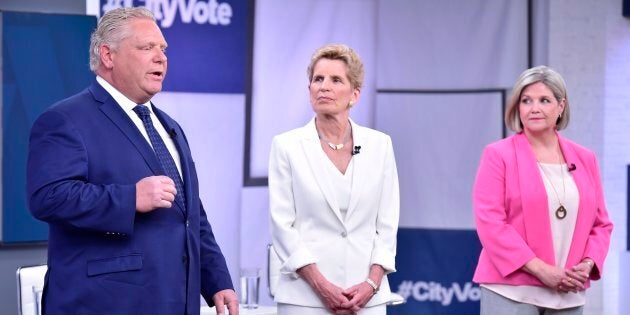 Ontario PC Leader Doug Ford confirmed he opposes safe injection sites at the first debate ahead of the provincial election, despite his campaign reportedly saying earlier in the day that he would meet with experts on the issue.
Liberal Leader Kathleen Wynne, the province's premier, and NDP Leader Andrea Horwath both said the sites — designed to give addicts a safe place to inject drugs under the supervision of medical professionals who intervene to prevent overdoses — are saving lives in the face of an opioid crisis.
At a debate hosted by CityNews in Toronto Monday, a restaurant owner in the city concerned about drug use in his area, asked the leaders what they will do to keep neighbourhoods safe, especially as the province funds supervised injection sites and, in a matter of months, open stores for legal marijuana.
"Well, my friend, what I'm not going to do is I'm not going to have injection sites in neighbourhoods," Ford said. "I believe, I strongly believe, that we should have rehabilitation programs."
Ford touted his pledge to spend $1.9 billion over 10 years on mental health and addiction.
"I've crisscrossed this province. I've talked to numerous people [with] family members [who] have had addictions and they're telling me they don't want an area that they can do more drugs," Ford said.
On the debate stage, Wynne said that while her government was looking at evidence to try to keep people from getting addicted in the first place, the sites are needed in the face of a global crisis.
"What safe injections sites are about is about saving lives," Wynne said. "And so we will continue to work with the professionals."
Horwath agreed that providing safe, supervised places for drug users is the best way to connect them to the treatment programs they need.
"We do have to pay attention to what the experts say. And what the experts say is this is the best way to reduce harm," she said. "Reduce harm for the individual and reduce harm in the neighbourhoods."
The current government approved funding for seven supervised injection sites, five of which have opened. It has pledged to spend $222 million over three years to tackle the opioid emergency.
Government data shows there were 1,054 opioid-related deaths from January to October 2017, compared with 694 during the same time period in 2016.
On legal pot, Wynne called her government's plan "responsible." Ontario Liberals have committed to opening 40 government-run cannabis stores in the first year of legalization, with that number expected to climb to 150 by 2020. The stores will be run by a subsidiary of the Liquor Control Board of Ontario.
Wynne also worked in a swipe at Ford, who mused in March that he was open to greater privatization of the drug.
"We don't want cannabis sold in corner stores on every corner. I know that was what Doug Ford had put forward," she said. "We want to make sure there's a controlled rollout because that's another culture shift that we are going through and kids' safety is the top priority, and undercutting the black market is the second priority."
Horwath said the current Ontario government's plan will not undercut the criminal drug business and added that "when New Democrats take office in a couple weeks," they will revisit the current plan.
Ford targets Wynne over pot near schools
Horwath is also promising to create a separate ministry for mental health and addiction if the NDP wins government in June.
"One thing I won't do, Kathleen, I won't put it beside schools like you did," Ford said, clarifying that he was talking about legal pot being available at LCBOs.
"It was beside a school under your watch," Ford said, before conceding the store location was actually "a few hundred yards away."
'You can't just have a slogan that then becomes a policy'
Ford said his government would keep kids safe and have zero tolerance for impaired driving from pot.
But Wynne suggested the idea of having pot and liquor in the same store was another example of the Tory leader not looking at evidence. Experts, she said, agree that is a bad idea.
"You can't just have a slogan that then becomes a policy," Wynne said. "That's not how it works."
Ontario voters head to the polls on June 7.
With files from The Canadian Press