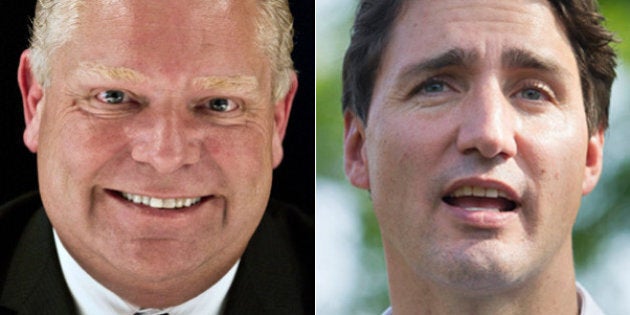 Doug Ford has come out swinging against Justin Trudeau's drug use in the last days of the campaign.
The brother of former crack-smoking Toronto mayor Rob Ford, made the comments in an interview with CTV News Thursday.
At one point, news anchor Jennifer Burke said Conservative Leader Stephen Harper appears to be "distancing himself" from the Ford brothers, not "embracing" the family's support. She then asked Doug how he squares his support with the Tories' tough-on-crime stance.
Doug responded as follows:
"You know something, I'm tough on crime too and I think it's essential. I know one thing, it wasn't Stephen Harper sitting around a table smoking a joint at a dinner party like Justin Trudeau was, so I find it pretty hypocritical."
Burke challenged Doug on the point by bringing up Rob's own drug use, but Doug persisted.
"I find it very hypocritical that Justin Trudeau would go down that avenue," he said.
"Justin Trudeau wants to get personal like anyone coming after us, let's talk policy. Let's wipe the veneer of Justin Trudeau and let's look at his resume. His resume, he wouldn't be hired as a floor sweeper, not to mention prime minister."
He concluded the interview by imploring voters to have a "sober second thought" about voting for Trudeau.
Doug's remarks were roundly mocked on Twitter.
On the same day, Liberal leader said Stephen Harper should be "embarrassed" at the Fords' support.
A passage from Mark Towhey's "Uncontrollable" describes a rambling phone call between himself and the former mayor, as Rob appeared to be in a heated fight with his wife, Renata.
Doug had no comment on the book.


Popular in the Community