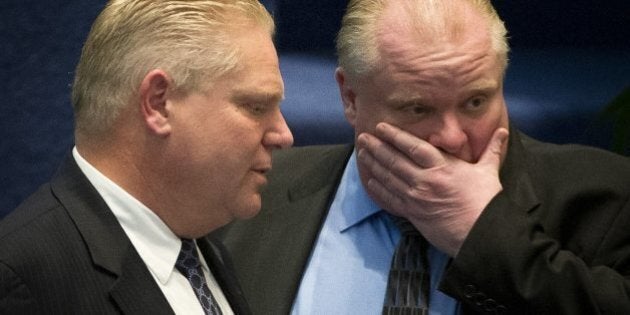 Doug Ford told reporters Tuesday that voters "don't care" about his brother's personal issues.
Yet, he also refused to say whether the mayor of Canada's largest city was drinking and driving last week.
Rob Ford hasn't addressed that video.
According to The Toronto Star, Doug Ford accused journalists on Tuesday of feeding on "this stuff" after he was asked if the mayor drove himself to and from the restaurant.
"You guys can work on the personal issues until Oct. 27 … but you're out of touch. You're out of touch with what the people care about. People don't care about that," he said. "What people care about … is making sure their taxes are low, that they have good employment here."
According to the National Post, Doug Ford also slammed Carol Wilding, president of the Toronto Region Board of Trade, for uninviting Rob Ford to its annual dinner on Monday.
"What the Board of Trade should be doing is working with all politicians. Carol Wilding decided not to. She's turning this into a little political game of hers," he said.
But questions about the possibility of Rob Ford drinking and driving are not exactly coming out of left field.
"Yeah, I might have had some drinks and driven," he said at the time, adding that he isn't perfect.
Then, just days later, Rob Ford mocked a fellow councillor during a heated council meeting for also consuming alcohol and driving in the past.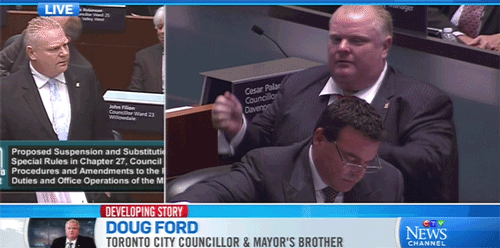 CBC News also revealed that Rob Ford was the subject of a city-wide alert last August after several people called police with concerns about his fitness to drive.
Rob Ford was at a barbecue at Sunnybrook Park attended by Prime Minister Stephen Harper and calls were made to Toronto Police after he got behind the wheel and left the event.
Rob Ford has filed his papers to run for re-election in October. Doug Ford is serving as his campaign manager.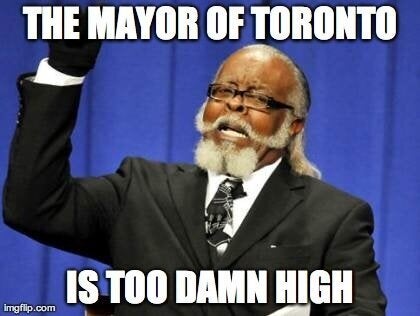 Rob Ford Memes