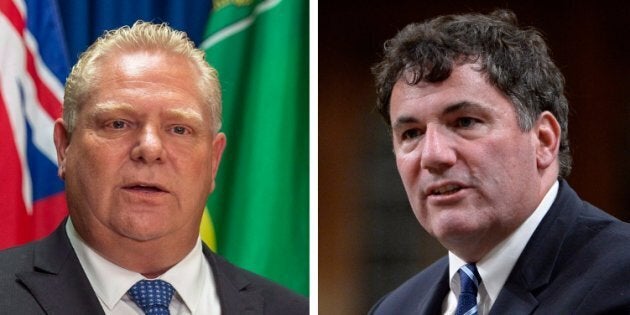 Ontario Premier Doug Ford should pour cold water on the rumour that he wants to get into federal politics instead of stoking the flames, a federal Liberal minister suggested.
"You get a four-year job, and you're 10 per cent into it, and you're already looking to upgrade? I can't imagine that that's very constructive," Intergovernmental Affairs Minister Dominic LeBlanc told journalists at Queen's Park Thursday.
A reporter had asked whether Ford's rumoured "national ambitions" complicate the relationship between governments.
You get a four-year job, and you're 10 per cent into it, and you're already looking to upgrade?Dominic LeBlanc
"I was surprised that Mr. Ford was campaigning for Andrew Scheer with the conservative leader in Alberta," LeBlanc said. "If I was worried about a problem with my children's education in a public school in Ontario, or I was on a waiting list in a hospital, I might find it more useful to see the premier here worrying about those issues than see the premier in Alberta."
He said Ford was "campaigning" in Alberta because the premier recently held a "Scrap the Carbon Tax Rally" in Calgary with that province's conservative leader, Jason Kenney. Ford also went to Saskatchewan to meet with Premier Scott Moe on the issue.
Conservatives across the country have promised to fight the carbon tax that Ottawa plans to impose on provinces in January.
The trips sparked speculation that Ford wants to make his so-called "Ford Nation" of supporters into a national movement that could one day catapult him to the Prime Minister's Office. The premier did not respond to HuffPost Canada's questions about this on Thursday.
In August, Ford was a star attraction at the federal Tory policy convention in Halifax. In a speech to delegates, he said that uniting behind Scheer would be key to Conservatives winning the 2019 federal election.
Ford's also taken to calling out the prime minister back home in Ontario. He's pointed a finger at Trudeau on a range of topics, from the carbon tax to international trade to legal cannabis.
On Tuesday, he said that Trudeau had left provinces to clean up his "mess" caused by legalization.
"With legalization upon us, where's Justin Trudeau?" Ford said. "When it comes to defending his cannabis plans he might as well be in the witness protection program."
LeBlanc didn't shy away from commenting on that, either.
"If our prime minister's in the witness protection program, Mr. Ford has, I think, dramatically misunderstood what that program was designed to achieve."