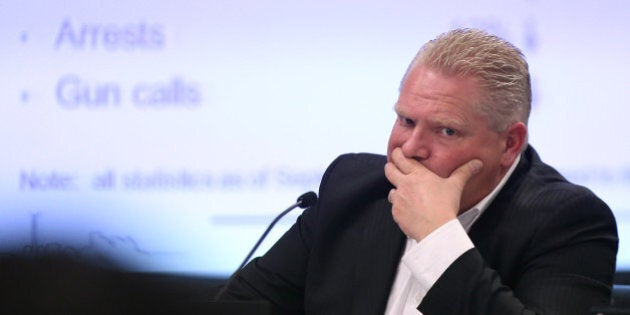 A Toronto city budget committee meeting came to a screeching halt Wednesday after Doug Ford was told to shut his "f--king mouth" by another councillor.
Video footage of the meeting shows Coun. Janet Davis walking over to Ford, leaning over him, and whispering an inaudible remark to his ear. Outraged, Ford then stood to explain what happened and demanded an apology.
"She just came up and told me to keep my effing mouth shut," Ford explained to the room. "She should leave the room now."
"I don't need that talk up here," Ford continued.
"So why don't you just leave?" he said to Davis. "You call yourself a lady, give me a break."
The salty outburst came after Davis' motion to expand funding for after school programs was defeated.
Davis apologized for her remark after being asked by meeting chair Coun. Francis Di Giorgio to do so. She later told Toronto Sun reporter Don Peat she was merely reacting to Ford's comments about her motion.
"I find it so objectionable the way he characterized programs for children and the things we were trying to achieve for the families of Toronto," Davis said. "He called it all garbage and stupid, I can't remember the exact words."
This is not the first time Davis has delivered strong words to a Ford.
Days after the mayor's crack cocaine use confession in November, she told reporters that Rob Ford should "just go away. Just stop talking to the press. Stop stepping into this chamber."
Like this article? Follow our Facebook page

Or follow us on Twitter