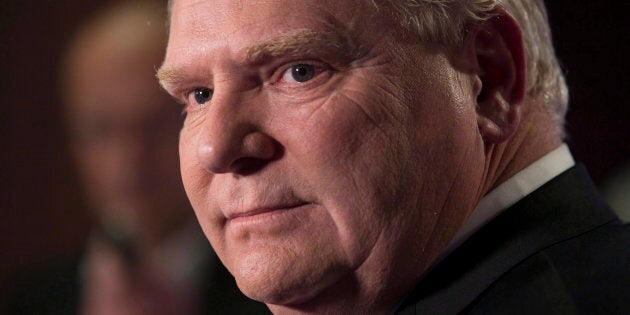 CBC's "Ottawa Morning" radio show interviewed newly elected Ontario Progressive Conservative Leader Doug Ford on Tuesday, and things got heated.
Ford, who won the party's leadership over the weekend — and by his own assessment had only been in his new role for about "50 hours" — seemed to take issue with many queries by host Robyn Bresnahan. The leader frequently got flustered when she pressed him for more specifics on his leadership campaign platform.
Ford repeatedly reacted to questions by bringing up the fact that he was more qualified for the job than her, saying that he has "knocked on tens of thousands of doors, unlike yourself," and "you haven't done it, I've done it. That's the difference. Next question."
When asked how he would "cut the waste" in the province without eliminating a single job, he said his Toronto city council and business experience would help him find "efficiencies," and then turned it back to the interviewer.
Listen to the full interview embedded below:
"I know you've never done purchasing, I've done it on a million-dollar business on both sides of the border," he told Bresnahan.
Ford pledged to improve health-care wait times if he became premier, saying he had "some of the best doctors in the whole world on my team," and said he would reduce taxes to put money back in Ontarians' pockets.
At one point, Ford and Bresnahan had duelling questions. After the former municipal politician asked the host if she thought savings could be found in Ontario's "bloated government," she responded by asking how he would find savings if he wasn't going to cut public service jobs.
Ford pushed again for her to answer his question, and Bresnahan reminded him that she was the interviewer.
"Let me answer that for you, since you're unable to," he then said.
Near the end of the interview, the CBC host asked Ford why he hadn't followed up on his threat to sue The Globe and Mail over a 2013 story that alleged he sold hashish for several years in the 1980s.
Ford questioned why Bresnahan wanted to "hash up" an old story about his high-school days that was "absolutely false," and said he thought a lawsuit was a waste of time.
She countered by saying it was an issue of trust, noting that Ford initially denied that his late brother, former Toronto mayor Rob Ford, had used illegal drugs.
Ford said he didn't know at the time that Rob had done drugs.
"I appreciate you bringing his name up, because he was one of the best civil servants there ever was," he said.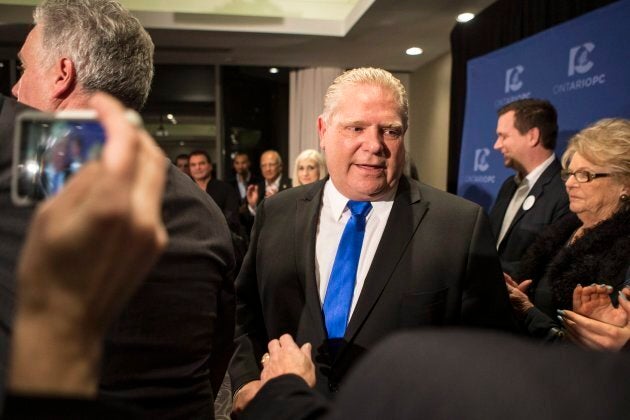 The PC leader also reiterated his plan to repeal Ontario's sex-ed curriculum, saying he believes parents weren't consulted on it.
Ontario Premier Kathleen Wynne fired back at Ford's claim on Tuesday, noting that about 4,000 parents were given an opportunity to weigh in on the changes to the curriculum.
"It's just not true," Wynne told reporters at an event in Toronto. "Parents were consulted. Psychologists, psychiatrists, police, people who live in communities and are concerned about the safety of young people were consulted."
'You equate tonsils to abortion?'
Ford also told Bresnahan he opposes minors having access to abortions without their parents' consultation. He used the example of a child undergoing surgery to remove an appendix or tonsils without the parents' knowledge. This isn't the first time he's made this comparison.
"You equate tonsils to abortion?" Bresnahan asked.
Ford tried to clarify by using a personal example.
"What my point is, would you let your child have an operation without your consent?" he said. "Do you have a child, Robyn?" She responded by saying that she had two.
After the exchange, he questioned the relevance of her questions.
"It's funny, you ask me all these questions that I've never heard at the door," he said. "And I've hit more doors than anyone out there."
With files from The Canadian Press